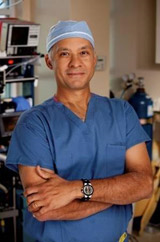 The" gynecomastia center of excellence" treats many men and boys with male breast reduction. The surgical team gives concierge care tailored to this patient population.
San Francisco, California (PRWEB) September 27, 2012
Gynecomastia means "female like" breasts on a man. This condition is usually permanent and may only be treated by male breast reduction surgery, also known as gynecomastia surgery. This is one of the most popular surgical procedures performed on men in the United States if not the world.
Gynecomastia comes in many different forms requiring different techniques and specialized equipment. The most common is adolescent gynecomastia, which is the development of the male breast during puberty caused by hormone changes. In 90% of the cases, it will resolve by itself within a couple of years. For the other 10%, surgery is the only resolution for the abnormality.
For the man with mild to moderate male breasts, there is a less invasive procedure available, "The Light Pull-Through Procedure". This is performed with an endoscope, allowing liposuction of fat through a small incision around the areola and then through the same incision a "pickle fork" type instrument can remove glandular tissue.
Of all male breast reduction cases that Miguel Delgado, M.D. performs, 40% are revision surgeries that were performed at other practices. Revision surgery takes special skills as the surgeon has to deal with scar tissue formed by the original surgery. The surgery center is set up for all gynecomastia procedures whereby complex surgeries are routine.
Patients come to Miguel Delgado, M.D. from around the world for his expertise. Providing full service to his patients, Miguel Delgado, M.D. provides a complimentary travel package that includes a four night stay at a local hotel and transportation from the airport.
Miguel Delgado, M.D. holds the two credentials most coveted by plastic surgeons practicing in the United States, namely certification by the American Board of Plastic Surgery and membership in the American Society of Plastic Surgery. He has his own fully accredited surgery center and two offices located in the Bay Area, San Francisco and Marin. Click here to see his vast amount of before and after pictures of his San Francisco gynecomastia patients and visit http://www.gynecomastia-specialist.com for detailed information. Call for a consultation at (415) 898-4161.