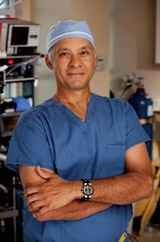 Liposuction has been around in the USA since the early eighties. This could be one of many beneficial effects of liposuction. More research will be needed and only time will tell.
San Francisco, CA (PRWEB) September 28, 2011
Liposuction became popular in the 1980's and now is the fourth most popular cosmetic surgical procedure following breast augmentation, rhinoplasty (nose reshaping) and eyelid surgery according to American Society of Plastic Surgeons 2010 statistics. Dr. Delgado has been doing the procedure since 1989 and at his own private surgery center, Marin Cosmetic Surgery Center since 2001. He states that it is safe to remove up to 5 liters of fat or about 11 pounds in one session. Liposuction was developed for body sculpting, especially for targeting stubborn areas of fat. But now according to a recent article published in the Los Angeles Times, liposuction may have huge health benefits in the lowering of triglycerides.
Previously it was believed that visceral fat which surrounds the internal organs was more directly linked to cardiovascular disease. But results of a recent study of 322 patients done by Dr. Eric Swanson, a plastic surgeon from Leawood, Kansas showed the subcutaneous fat lying under the skin that was removed by liposuction had a direct result in lowering the triglyceride levels of those patients that had high levels.
A reduction of 43% is twice that of what can be obtained by patients taking medication, but this does not mean liposuction can replace medications in patients with very high triglyceride levels. In addition, their white blood cell count (which is associated with increased heart disease) fell by 11%. The study shows no change in levels for patients that had normal levels to begin with.
Some of Miguel Delgado, M.D.'s liposuction patients ask, "If liposuction has health benefits, will medical insurance cover the procedure?" This and many other questions are being presented, only time will tell as more information becomes available. More research is needed to determine if these changes translate to a reduced health risk.
Miguel Delgado, M.D. holds the two credentials most coveted by plastic surgeons practicing in the United States, namely certification by the American Board of Plastic Surgery and membership in the American Society of Plastic Surgery. He has his own fully accredited surgery center and two offices located in the Bay Area, San Francisco and Marin. View his vast amount of before and after pictures of his San Francisco liposuction patients. For more information visit http://www.dr-delgado.com or call for a consultation at (415) 898-4161.
# # #