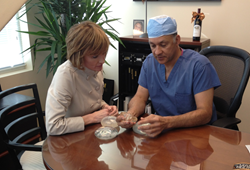 Miguel Delgado, M.D. is offering a reduction in surgical fees to San Francisco Bay Area women who wish to have PIP implants removed.
San Francisco, CA (PRWEB) January 17, 2012
France's RTL radio recently reported that Poly Implant Prothese (PIP), a now defunct French manufacturer of breast implants, was using industrial grade silicone. Due to an unusually high rupture rate it was discovered the company was using industrial grade silicone, not medical grade for their implants. Industrial grade silicone includes; Baysilone, Silopren and Rhodorsil which were never approved or tested for clinical use, but used as a fuel additive and even in mattresses. A Dutch company "Rofil M-implants" rebranded the PIP implants and are also at risk as the contents are the same.
According to an article published by ABC News dated January 4, 2012, PIP was shut down in 2010 and the implants banned when the discovery was made. Prior to this the company grew to be the world's third largest manufacturer of breast implants. The prices for PIP implants were unbeatable. According to Wikipedia, industrial grade silicone costs only 10% of approved medical grade.
Miguel Delgado, M.D. advises any woman who had breast augmentation surgery with PIP silicone implants to contact her surgeon to discuss any concerns. Miguel Delgado, M.D. stresses the importance for women to know what brand, what size and if their implants are silicone or saline.
The Food and Drug Administration had banned all silicone implants from 1992-2006 due to possible health issues but saline implants which never caused such concerns remained on the market. PIP sold a line of saline-filled implants starting in 1996 in the United States, and silicone implants outside the United States. In a recent report in HealthNews.com, in 2000 the FDA sent an inspector to PIP's manufacturing plant in France who found multiple violations of accepted manufacturing practices and banned all PIP implants in the U.S.
Silicone breast implants were allowed back on the market in the United States in 2006 after being banned for 14 years. Extensive studies showed approved silicone implants are safe. Mentor, one of the two U.S. approved manufacturers has published a statement regarding their approval by multiple regulatory agencies verifying safety and health standards of their breast implants.
ASAPS (The American Society for Aesthetic Plastic Surgery) has published a guide for members with patients that have PIP silicone implants. ASAPS states that the PIP implants have a higher rupture rate than other available implants and since the adverse effect of the impurities used in industrial grade silicone is unknown, removal of the implants is recommended. ISAPS (International Society of Aesthetic Plastic Surgery) has come out with their own statement supporting this recommendation.
Many mixed reports are coming in from different countries with different recommendations. Some countries recommending removal besides the United States are: France, Venezuela, Germany and the Czech Republic. Israel has set up a hotline to deal with concerned patients.
The French government stated that the industrial grade silicone was more irritating to tissues if the implants rupture and therefore recommends having them removed. France is covering the cost of removing such implants.
The President of the Australian Society of Plastic Surgeons advises there is no need for alarm, but is encouraging all surgeons and patients to register all implant details, so should the need arise they can contact people in a timely manner.
Britain concluded there was not sufficient evidence to recommend routine removal, finding no link between the implants and cancer.
Miguel Delgado, M.D. holds the two credentials most coveted by plastic surgeons practicing in the United States, namely certification by the American Board of Plastic Surgery and membership in the American Society of Plastic Surgery. He has his own fully accredited surgery center and two offices located in the Bay Area, San Francisco and Marin. View his vast amount of before and after pictures of his San Francisco breast augmentation patients. For more information visit http://www.dr-delgado.com or call for a consultation at (415) 898-4161.