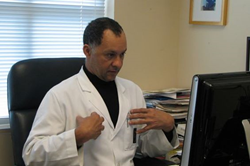 This is a true advance in patient communication
San Francisco, California (PRWEB) February 20, 2013
What is more personal than a phone call? Skype is helping to change the way doctors interact with patients. Board Certified Plastic Surgeons don't specialize in all areas of plastic surgery. Most have their favorite specialties and tend to focus on those. While many surgeons do most procedures, they become well known for the ones that they enjoy the most and become most proficient. They are generally discovered by word of mouth and by the popular rating sites that are found on the internet. Miguel Delgado, M.D. specializes in several procedures such as; facelifts, gynecomastia, and mommy makeovers. Patients from all over the United States and even out of the country have contacted him in the hopes of scheduling surgery with him.
The internet allows patients to research in depth for whatever procedure they are interested in. The disadvantage may be that they will find the surgeon of their choice, but the surgeon may be geographically undesirable. In the past, patients have mailed Miguel Delgado, M.D. pictures and then followed up with a phone consultation. Then patients were able to email pictures speeding up the process. Now with Skype, they can have a face to face consultation which is the next best thing to being with him in person. This gives the patient the ability to save the expense of traveling to the San Francisco Bay Area for a consultation, making just one trip for surgery.
For those who have never experienced Skype, it is an easy and fun way to communicate. Best yet, it is easy to sign up, and there is no cost involved. Most computers come with built in web cams but for those that don't, they can be purchased fairly inexpensively online or at a computer store, in most cases for less than $30.
Miguel Delgado, M.D. holds the two credentials most coveted by plastic surgeons practicing in the United States, namely certification by the American Board of Plastic Surgery and membership in the American Society of Plastic Surgery. He has his own fully accredited surgery center and two offices located in the Bay Area, San Francisco and Marin. For more information visit http://www.dr-delgado.com or call for a consultation at (415) 898-4161.