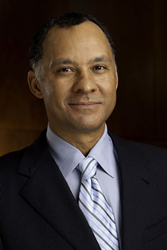 These are some our most difficult cases. My technique is to avoid incisions across the chest and limits the incision to the areola. A scar across a man's chest can be as devastating as the gynecomastia itself.
San Francisco, CA (PRWEB) May 02, 2012
The American Society for Aesthetic Plastic Surgery(ASAPS) has reported a yearly increase in cosmetic surgery for men, with gynecomastia surgery (male breast reduction) one of the most popular procedures. The man with moderate to severe gynecomastia will have a large amount of excessive skin which in most cases will require a two stage procedure, to see before and after pictures of a patient with severe gynecomastia, click here Miguel Delgado, M.D. explains to his patients that to do all in one procedure will leave a mastectomy-type scar which he feels can be as devastating as the gynecomastia itself and disfiguring.
The first stage of surgery would be aggressive gland excision and liposuction, the patient may be left with redundant skin that will not shrink back to the chest wall. Sometimes a breast lift is done to advance the nipple-areolar complex upward and to reduce the breast fold. In some cases this lift will achieve a good result and the second stage will not be necessary.
For the severe case, the second stage (also known as a peri-areolar lift) will be needed. It is necessary to wait until the blood flow has reestablished itself, usually after four to six months of healing. The procedure consists of an incision around the nipple-areolar where the excess skin is excised and the closure is done with what is called a purse string. When the incision heals, there is almost no visible scarring. Patients are relieved to learn that the surgeon's goal besides reduction of skin, fat and gland is a near scar-less result.
At the initial consultation, Miguel Delgado, M.D. is able to tell a gynecomastia patient if the possibility of two stages may be necessary. Many men are pleased with the outcome of their first procedure and do not opt for the second, this is a personal decision and patient satisfaction is most important.
Miguel Delgado, M.D. holds the two credentials most coveted by plastic surgeons practicing in the United States, namely certification by the American Board of Plastic Surgery and membership in the American Society of Plastic Surgery. He has his own fully accredited surgery center and two offices located in the Bay Area, San Francisco and Marin. View his vast amount of before and after pictures of his San Francisco gynecomastia patients. For more information patients are invited to visit http://www.gynecomastia-specialist.com or call for a consultation at (415) 898-4161.