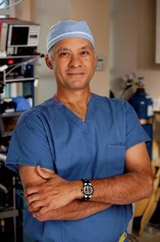 I never felt strongly that surgical vitamins made a difference, after 3 years experience with VitaMedica I have changed my mind
San Francisco, CA (PRWEB) January 08, 2013
Aware of the busy lifestyle Miguel Delgado, M.D.'s San Francisco Bay Area patients have, he strived to find the most efficient process of recovery for all of his cosmetic surgical patients. Noting that patients who followed his advice in taking vitamins and nutritional supplements before and after surgery healed faster, he began to compare products settling only for the best. He discovered that VitaMedica offered a Recovery Support Program designed specifically for surgery patients. VitaMedica was formulated by anesthesiologist and founder David H. Rahm, M.D.
Miguel Delgado, M.D. has advised his gynecomastia patients and all surgery patients to stop all supplements two weeks before surgery and two weeks after, while on the VitaMedica program. There are many products; vitamins, minerals and herbs that can interfere with the healing process and can even cause complications during surgery. For example; vitamin E, fish oil, ginkgo biloba, and garlic are all blood thinners and can cause bleeding problems during surgery. Miguel Delgado, M.D. gives his Breast Reduction patients and all of his patients an extensive list of what to avoid, but simplifies it by suggesting his patients stop everything for the 4 week period, and only take the VitaMedica Recovery Support Program.
The Recovery Support Program consists of Clinical Support AM, Clinical Support PM, Arnica Montana and Bromelain with Quercetin.
VitaMedica Clinical Support taken in the morning and the evening promotes wound healing with higher (but safe) levels of key vitamins and minerals than a typical multi-vitamin. It boosts the immune system with vitamins, minerals and antioxidants which reduce the oxidative load.
Arnica Montana is a homeopathic remedy for bruising and swelling. It is a yellow flowering herb organically grown in Western Europe, Canada and the United States. Bromelain with Quercetin are two botanicals treating inflammation, swelling and pain. VitaMedica has formulated the right combination of ingredients in the right dose, allowing patients a faster healing time.
Miguel Delgado, M.D. was so encouraged by the results of his patients who took the VitaMedica Recovery Support Program that he now includes the product for all of his surgery patients.
Miguel Delgado, M.D. holds the two credentials most coveted by plastic surgeons practicing in the United States, namely certification by the American Board of Plastic Surgery and membership in the American Society of Plastic Surgery. He has his own fully accredited surgery center and two offices located in the Bay Area, San Francisco and Marin. For more information visit http://www.dr-delgado.com or call for a consultation at (415) 898-4161.