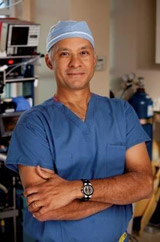 Breast reduction surgery becomes a change in ones lifestyle. No reason to wait, it may be covered by health insurance.
San Francisco, CA (PRWEB) October 10, 2011
A specialist in breast reduction surgery, Miguel Delgado, M.D. saw the need for an informative patient-focused website that affords easy navigation. He achieved this with his website, which enlightens women of the different types of breast reduction surgery, also known as "reduction mammoplasty". There is a full description of the traditional breast reduction procedure, the short scar procedure, breast reduction by liposuction and for those who could benefit a breast lift at the time of the reduction.
Due to the complications that large pendulous breasts can cause, such as back and neck pain, rashes, etc. many insurance companies cover part or all the procedure. Obtaining authorization can be difficult but the staff at Miguel Delgado, M.D.'s office knows the ins and outs of getting approval and is able to help many patients get their surgery covered. The website gives patients a lot of information on the requirements of many insurance companies.
Further navigation will show many before and after breast reduction pictures, actual patient testimonials, and a multitude of videos produced by Miguel Delgado, M.D. of many of his patients. There is a FAQ section that may answer many patients' questions, but if any have gone unanswered all patients and prospective patients are invited to email or call Miguel Delgado, M.D. or come in for a personal consultation where he can make an evaluation and recommendations.
Women are not the only ones in need of a breast reduction; many men are plagued with a condition called "gynecomastia" or male breasts, also known as man boobs, and moobs. Gynecomastia surgery is another procedure Miguel Delgado, M.D. has specialized in since 1988. There is an informative section on the new site for male breast reduction; in addition Miguel Delgado, M.D. has a dedicated website for this procedure which can be viewed at http://www.gynecomastia-specialist.com.
Miguel Delgado, M.D. holds the two credentials most coveted by plastic surgeons practicing in the United States, namely certification by the American Board of Plastic Surgery and membership in the American Society of Plastic Surgery. He has his own fully accredited surgery center and two offices located in the Bay Area, San Francisco and Marin. For more information visit http://www.dr-delgado.com or call for a consultation at (415) 898-4161.
###