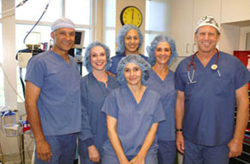 Having a user friendly website allows new patients to feel welcome before they come in for their first visit.
San Francisco, CA (PRWEB) August 16, 2011
The "Welcome to Our Office" video takes prospective patients on a tour of the office and surgery center from the comfort of their home so that it feels familiar on the first visit. The website is loaded with multiple videos. The videos are of such procedures as; facelift, brow lift, mommy makeover, breast reduction, male breast reduction (gynecomastia) and more. Miguel Delgado, M.D. feels the videos are an invaluable source of information for his patients and therefore he has several more in production. The most recent to be added to the website will be on breast augmentation and breast revision, with more to come. The quality of the videos has been responsible for contact by the BBC and Discovery Channel for Miguel Delgado, M.D. to work in unison with them in their own production of various cosmetic procedures.
The procedure tab allows patients to quickly find extensive information on procedures that Miguel Delgado, M.D. specializes in, including; facelifts, breast augmentation, liposuction, tummy tuck, mommy makeover, and gynecomastia to name just a few. Skin care is of a big concern to many patients and Miguel Delgado, M.D. has esthetician, Alise Hassler to address these issues. There is a section on the website explaining all of the skin treatments offered and she is available for consultation to give personal assessment for skin care.
The bios of the staff along with pictures are informative and help new patients feel at ease when first coming in. There are hundreds of before and after pictures of many procedures as well as testimonials to give patients a good idea of the natural outcome that can be expected.
Miguel Delgado, M.D. holds the two credentials most coveted by plastic surgeons practicing in the United States, namely certification by the American Board of Plastic Surgery and membership in the American Society of Plastic Surgery. He has his own fully accredited surgery center and two offices located in the Bay Area, San Francisco and Marin. For more information visit http://www.dr-delgado.com or call for a consultation at (415) 898-4161.
###