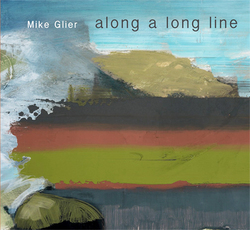 depict the urban environment as responsive and subject to the same evolutionary forces as the rural environment.
Lenox, MA (PRWEB) October 21, 2009
With fifty pounds of art supplies on his back, one French easel, a laptop and nine weeks in each location (that's a plein-air painter with a modern day twist), Mike Glier travels along the 70th line of longitude to the Arctic, Ecuador, the Caribbean, and New York City. Glier's photography and written observations, which began as an online diary to document his travels in the Spring of 2007, have been edited and assembled with site specific paintings in story-like fashion to reveal multi-dimensional impressions of each habitat while addressing the urgent issue of man's connection to and place in nature.
The journey begins with Glier just south of the Arctic circle in the environs of Iqaluit, Baffin Island, Canada, then travels to the rainforest of Ecuador, staying in Jatun Sacha, a 2,500 hectare ecological preserve on the Napo River known for one of the world's most diverse collections of plant, animal and insect species. Glier selects subtropical environment of St. John in the U.S. Virgin Islands where the ocean and the 14,000 acre Virgin Islands National Park are designated by the United Nations as a part of the biosphere reserve network. The final destination is New York City where Glier tackles the urban landscape in order to "depict the urban environment as responsive and subject to the same evolutionary forces as the rural environment."
Glier offers a new approach to the perception of boundaries --a world where we live less divided by political boundaries than one where we live in spatial divisions prescribed by scientific measurements. "My way of addressing the current threat is to picture the vitality of the living world," says Glier, "to engender sensitivity toward it and to share my experience of being within it." His journey is recounted with the enthusiasm of Darwin and the technical mastery of the plein-air greats such as John Audubon. The result is at once a collection of breathtaking visual renderings in paint and photography as it is a mindful lesson in awareness of the diversity and fragility of this planet so few of us ever get a chance to fully experience.
Coinciding with the publication of this title is the exhibition "Along A Long Line" featuring 40 paintings made outdoors and 4, larger studio works based on the plein air compositions. The show travels from the Gerald Peters Gallery in New York to Williamstown, Massachusetts where it will be on display at the Williams College Museum of Art from October 31, 2009 to February 21, 2010.
Solo exhibitions of Mike Glier's drawing and painting have been held at the Museum of Modern Art, New York, the San Diego Museum of Art, The Pennsylvania Academy of the Fine Arts, The Cincinnati Contemporary Art Center, The Wexner Center, Columbus, OH and Mass MoCA, North Adams, MA. In 1989, he was the New England recipient of Awards in the Visual Arts 9. He was awarded a Guggenheim Fellowship in painting in 1996. In 1975, he received a BA from Williams College, Williamstown, MA, attended the Whitney Museum Independent Study Program and received his MA from Hunter College, New York in 1979. He is currently represented by Barbara Krakow Gallery, Boston, Gerald Peters Gallery, NY and Santa Fe, and Geoffrey Young, Great Barrington, MA. Born in Kentucky in 1953, he now lives in New York State.
Hard Press Editions, in Lenox, Massachusetts, has published Artist Monographs, Art Criticism, Art Theory, Fine Art Prints, Fiction and Poetry since 1992. Along A Long Line is the first title in a new initiative by Hard Press Editions to engage its content with new media such as search engines and social networks.
Along A Long Line / book details:
11x12, Hardcover, cloth binding; 208 pages; 240 color plates and photographs
Essay by Lisa Corrin, Interview by Carol Diehl
Published by Hard Press Editions in association with Hudson Hills Press
ISBN-13: 978-1555953195
Publiacation Date: October 15, 2009
Distributed to the trade by National Book Network, Inc.
###