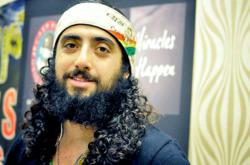 I am passionate about Missoula and want to see us working together to create a safe environment for our families and children
San Francisco, CA (PRWEB) June 29, 2013
United Patients Group announces its support for the newest Missoula mayoral candidate, Mike Hyde, who will focus on developing programs that provide economic, environmental and responsible improvements for the Montana city.
Mike is one of three candidates running against current Mayor John Engen, who is seeking his third term. Mike has become a well-liked and well-known figure in the Missoula community for his work as an advocate for medical marijuana and patients' rights. His son, Cash Hyde, passed away last year from brain cancer. The family made headlines for using cannabis oil in Cashy's treatments, sending his cancer into remission twice and shocking the medical communities throughout the world. Cashy's fight inspired Mike to create the Cash Hyde Foundation, which is on a mission to beat pediatric cancer and to help other families fighting this awful disease.
Angered by how the police department responded to the passing of his toddler son, the determined and progressive candidate proposes new police monitoring programs that keep elected officials and law enforcement officers responsible for their actions.
"I am passionate about Missoula and want to see us working together to create a safe environment for our families and children," said Mike Hyde.
Mike also proposes to donate half of the mayor's salary, $40,000, to start an indoor, community-owned greenhouse and farmers' market that provides fresh, affordable, organic/non-GMO food for Missoula residents year-round.
To spur economic growth within the community, Mike Hyde will propose a sustainable industry by backing the first hemp processing factory in the state of Montana, which would develop hundreds of jobs for Missoulians.
The mayoral candidate would initiate the "buy back" of Missoula's water rights from the California based corporation currently in control of the city's drinking water. He also proposes to initiate the first glass recycling center in Missoula.
"Currently, all glass from Missoula is being collected and driven to Washington state for recycling," said Mike. "That's something we should bring back into our own city for job creation, sustainable practices and, ultimately, environmental protection."
Mike's propositions would promote a sustainable, safe and economic community for Missoula.
The ultimate measure of a man is not where he stands in moments of comfort and convenience, but where he stands at times of challenge and controversy. - Martin Luther King, Jr.
For more information about Mike Hyde and the Cash Hyde Foundation, visit http://www.CashHydeFoundation.com or Mike Hyde for Mayor Facebook page https://www.facebook.com/MikeHydeforMayor
For more information about UnitedPatientsGroup.com, call (415) 524-8099 or visit UnitedPatientsGroup.com.
The best way to stay informed about developments is to "like" United Patients Group on Facebook and "follow" Untied Patients Group on Twitter.
About UnitedPatientsGroup.com
UnitedPatientsGroup.com is a discreet, safe, and professional online medical cannabis information resource for prospective and current patients, caregivers, and medicinal cannabis industry professionals.
While most online medical marijuana sites cater to patients already familiar with medical marijuana, the UnitedPatientsGroup.com website is a comprehensive and easy-to-use information source for people of all ages and experience levels, from novice medical cannabis users to experienced industry professionals. The site's News, Resource, and Blog pages introduce new patients to the ins and outs of medical marijuana healthcare, while helping experienced providers stay abreast of the latest developments in THC and CBD therapies.
A complimentary Five Star-rated United Patients Group medical marijuana app is available on the iTunes app store for iPhone 3GS, iPhone 4, iPhone 4S, iPhone 5, iPod touch (3rd generation), iPod touch (4th generation) and any iPad.