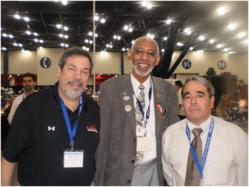 "Ralph Ross, a physics and math teacher at the Title 1 School, used old coins to help students understand history, art, politics and science," stated Mike Fuljenz
Houston, Texas (PRWEB) January 23, 2013
Mike Fuljenz gave a speech at the 56th Annual Money Show in Houston, Texas and announced his support to back Ralph Ross Ph.D. candidacy for a position on the American Numismatic Association (ANA) board of governors. Fuljenz a long time recognized expert in the numismatic circles and an author of numerous books on American coinage has been a friend and admirer of Dr. Ross's contribution to the coin collecting community and his desire to teach others the fascinating hobby of kings.
Ralph Ross has stated one of his primary goals is advancing the knowledge of numismatics through educational, historical and scientific ways. As an example of Ross fulfilling that goal was in 2010 when he reached out to Johnny Duncan of U.S. Coins in Houston, Texas and Mike Fuljenz to donate 2010-dated silver American Eagles to be awarded to some high achievers of Ralph Ross's Students at Jack Yates High School in Houston. Mike Fuljenz said that, "Ralph Ross, a physics and math teacher at the Title 1 School, used old coins to help students understand history, art, politics and science."
Mike Fuljenz, a former school teacher and principal, understands Ross's objective and the intrinsic value of introducing numismatics to students. "Ross's 35 years of national award winning involvement in the numismatic community and specifically his great contributions to the Greater Houston Coin Club makes him a perfect pick as a candidate for a position on the ANA board of governors," stated Mike Fuljenz.
Michael Fuljenz is a nationally-known rare coins and precious metals expert. His expertise has been used by the Federal Trade Commission (FTC), United States Postal Service, United States Mint and the Texas Office of Consumer Credit Commissioner (OCCC). He is an award winning numismatic author of books and newsletters, a frequent interview guest on radio and TV news and personal finance programs, and a Beaumont, Texas community leader.