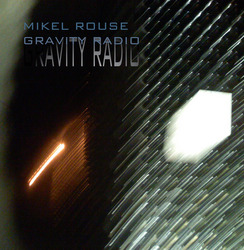 We have Rouse's works as living proof that complexity need not keep listeners at a distance, and that pop music can sustain serious interest with the right person at the helm.
New York, NY (PRWEB) September 16, 2009
Composer, filmmaker, director and solo performer Mikel Rouse will release his new album, Gravity Radio (Exit Music 1012) on Tuesday, November 3 on iTunes and at all major retailers. He will celebrate with a special album release performance at Galapagos Art Space (16 Main Street, Brooklyn, NY) on Friday, October 23 at 8pm. Mr. Rouse will be joined onstage by his band, special guests ACME (American Contemporary Music Ensemble) and TONY nominated/OBIE Award winner Veanne Cox. New work by acclaimed video artist Cliff Baldwin will be projected throughout the performance. A live performance of Gravity Radio will tour to New Orleans, New York, Illinois, North Carolina, Toronto, Ireland, and Spain in 2010.
Gravity Radio features music for string quartet, singers, guitarist, bass, drums and keyboard soaring above and intertwining with ethereal shortwave radio static. Through this texture, a voice (that of Veanne Cox) cuts intermittently with scattershot reports from the AP newswire - stories from the Iraq war, statistics for cell phone usage, plastic surgery, professional football and the economy. The music is immediately familiar and comforting, just as is the text from the newswire feels known and routine. Yet repeated listening generates an odd feeling that perhaps there is more meaning there than first meets the ear.
Mikel Rouse has spent his successful and varied career creating music and multimedia projects that marry simplicity and intricacy. Gramophone reports, "We have Rouse's works as living proof that complexity need not keep listeners at a distance, and that pop music can sustain serious interest with the right person at the helm." Mr. Rouse has finely honed his ability to defy genres with his "avant-rock" music, infusing his work with sincere melody while basing it on strict and complex idioms. The result is music that is infectious from the first hearing, and which grows more engaging and cerebral thereafter.
Of the new album Rouse says, "Perhaps it (Gravity Radio) is an attempt to recapture or update my first memory of radio in the late 1960s - Motown and British rock fading in from a faraway Chicago station as the local news faded out on my transistor radio, which I put between my head and the pillow late at night."
Following the November release of Gravity Radio, Rouse and his 11-piece band will embark on an international tour in January 2010. The live performance of the song cycle will incorporate multichannel video representing a visual kaleidoscope of earthbound images. The AP newswire reports will be customized for each performance, taken from that day's local and national news.
The Gravity Radio tour begins in New Orleans at the Contemporary Arts Center on January 23, followed by performances at the Krannert Center for the Performing Arts in Urbana, IL on January 29 and 30. Details for tour performances in New York, North Carolina, Toronto, Ireland, and Spain will be announced later this year.
Mikel Rouse's musical and theatrical repertoire has its roots in the high art-meets-popular culture of the early '80s downtown Manhattan music and art scene from which he emerged. As the Toronto Globe and Mail puts it, Rouse's music has brought "comparisons to Laurie Anderson, Steve Reich and occasionally Talking Heads, though Rouse's love of complex rhythmic patterns far exceeds them all. But music is just a part of what he does: His pieces also build a hypnotic effect through their non-narrative approach and the use of surreal film images." After the premiere of Rouse's multimedia opera, The End of Cinematics, The New York Times reported, "Sometimes built on heavy, repetitive beats, and sometimes couched in Beatle-esque psychedelia, the songs are vivid, pleasingly visceral and often engagingly harmonized, with amusingly off-kilter lyrics."
Previous high profile projects for Rouse include a score written entirely for iPods for the Merce Cunningham Dance Company, an opera in which he portrays a Jerry Springer-esque talk show host, and another based on Truman Capote's In Cold Blood. Mikel changed the spelling of his name from Michael as a kid (because he thought it should look like it sounds), briefly joined the carnival as a teenager, and had a band called Tirez Tirez that opened for the Talking Heads in Kansas City in 1978. Rouse has lived in New York's Hell's Kitchen since the 1980s. For more information about Mikel Rouse, please visit his website.
Concert information for event calendars:
Mikel Rouse's Gravity Radio Album Release Concert
Friday, October 23, 2009 at 8pm
Galapagos Art Space
16 Main Street, Brooklyn, NY
Featuring selections from Gravity Radio
With special guests: ACME, Veanne Cox, and new video by Cliff Baldwin
Tickets: $15 (in advance) $20 (at the door) at http://www.galapagosartspace.com or 718.222.8500
For promotional and review copies of Gravity Radio, interview requests, and more info contact:
Christina Jensen PR
001.646.536.7864
###