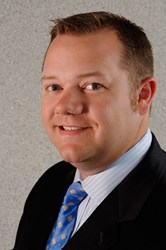 "I am excited to serve the region by being appointed to the Northern Kentucky Chamber of Commerce Board of Directors. This organization sets a great example of leadership and advocacy for businesses and the community."
Cincinnati, OH (PRWEB) November 03, 2013
Centennial Inc. announces that Mike Sipple Jr. has been elected to the Board of Directors for the Northern Kentucky Chamber of Commerce.
Mike Sipple Jr. is excited to be working to further the mission for the Northern Kentucky Chamber of Commerce (http://www.nkychamber.com/about/board.aspx). The mission is to develop strong businesses and a vibrant economy in Northern Kentucky and its surrounding region, through business advocacy and leadership, resulting in a better quality of life for all. Mike has a personal desire to serve others and is excited to provide value through his vision, passion and influence in the Greater Cincinnati and Northern Kentucky region.
"I am excited to serve the region by being appointed to the Northern Kentucky Chamber of Commerce Board of Directors. This organization sets a great example of leadership and advocacy for businesses and the community." Mike said, "I will strive to make an impact by helping to implement initiatives, improvements and programs that better the community we live, work and serve." Mike is honored to be amongst top business and community leaders who serve on the Board of Directors and Board of Advisors.
The Northern Kentucky Chamber is Greater Cincinnati's leading business organization and a nationally accredited five-star Chamber. The membership comes from businesses of all types and sizes. The organization's history is full of success stories about people and companies who rose to the occasion and did something important. The Chamber is the voice of the business community. The organization connects businesses to government, education and nonprofits in order to create and promote a strong business climate. What ties it together for Mike is the goal of making a difference. "I believe the Northern Kentucky Chamber makes a significant difference in the lives of others and this is critically important to me."
Mike was also recognized as the 2012-2013 Rookie of the Year by the Northern Kentucky Chamber. To be eligible for the award, nominees must be a member of the Northern Kentucky Chamber of Commerce and an active volunteer in the organization for less than two years. Mike was a key participant in the 2013 Chamber Funding League campaign, not only in new engaging new members, but also in demonstrating the ability to lead others in a positive manner to promote the Northern Kentucky Chamber of Commerce. "Mike brings tremendous energy and enthusiasm to the Chamber Board of Directors," said NKY Chamber President and CEO Steve Stevens. "He has already been a proven performer for us in several capacities and we are excited that he will be joining the top leadership of our organization," Stevens said.
Mike takes the lead and sets an example by using professional excellence in the area of Chamber volunteerism and desires to implement improvements to meet the needs of the Northern Kentucky Chamber of Commerce's membership.
About Centennial, Inc.:
Since 1975 Centennial's mission has stayed the same, connecting business leaders with the best talent and resources to improve their businesses, careers and personal lives (http://www.centennialinc.com). Organizations and leaders turn to Centennial because they know they can trust our team to deliver solution-focused services and results. We assist client companies who are experiencing change and growth to hire their best people and develop their top talent.