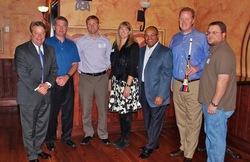 LA2M is grateful to Mike Tirico for giving his time to our group. The crowd got a real treat and a great talk from Mike Tirico, a true sports icon.
Ann Arbor, MI (PRWEB) November 3, 2010
Digital marketing agency Ingenex sponsored a Lunch Ann Arbor Marketing (LA2M) event that raised $2,800 for local charity Peace Neighborhood. Mike Tirico, ESPN's Monday Night Football broadcaster, was the featured presenter at the October 20 LA2M event and he discussed a wide range of topics including his coverage of the 2010 FIFA World Cup, why marketing in the World Cup made it more successful than other soccer broadcasts in the US and ESPN's overall role in it all.
Tirico shared his insights with the Ann Arbor marketing group as he recounted his first-hand experiences at the 2010 FIFA World Cup. Topics included how media coverage of the World Cup compared to other major US sporting events, how South Africa handled it's most significant world gathering post-Apartheid and the role of ESPN in increasing the profile of soccer in the US. Find the event video at: LA2M Mike Tirico Presentation Coverage.
LA2M brought more than 125 business professionals and sports fans together for a great event that raised $2,800 with the help of local businesses Bank of Ann Arbor and Conor O'Neills. LA2M brought in over $1,000 from selling tickets to the event and LA2M partner Conor O'Neills, where the marketing education group meets every Wednesday, donated $300. Bank of Ann Arbor matched the two donations at $1,300. Attendees bought raffle tickets in which half the proceeds were donated to Peace Neighborhood and half were to be prize money. The winner of the raffle, Kit Dickinson, donated his winnings back to the charity to bring the total donation to $2800 to go to the Ann Arbor-based charity that aids children, families and individuals who are experiencing economic hardship to make choices that lead to independence and positive community engagement. Although Mike Tirico is a globally recognized personality, Tirico and his family are local residents of Ann Arbor. Tirico is actively involved with Peace Neighborhood organization and chose to support the charity's efforts through LA2M.
The attendees of the Mike Tirico presentation received purple vuvuzelas donated by Ingenex Digital Marketing also located in Ann Arbor, Michigan. Ingenex specializes in website design, search engine optimization, pay-per-click advertising, social media marketing and mobile application development. Ingenex CEO Derek Mehraban founded LA2M in 2008, and regular attendance has grown to upwards of 80 marketing professionals, business owners and local entrepreneurs each week. The Ingenex Digital Marketing team is pleased to partner with the Tirico family to support local charity Peace Neighborhood and would like to extend a special thanks to Conor O'Neills and Bank of Ann Arbor for their donations and commitment to the betterment of the Ann Arbor community.
About LA2M:
LA2M is a 501c3 Non-Profit organization also known as Lunch Ann Arbor Marketing. LA2M is open to client and agency side marketing professionals, and anyone else who wants to learn about marketing. It's a chance to exchange ideas and get to know other professionals during lunch in a relaxed and friendly environment. We are known for giving free advice to businesses and non-profits that attend our meetings. There is no membership fee and advanced registration for LA2M lunch is not required - just turn up and enjoy the fun.
To learn more about Lunch Ann Arbor Marketing, visit http://la2m.org/.
LA2M Sponsor Ingenex Digital Marketing:
Ingenex Digital Marketing, based in Ann Arbor, Michigan is an Internet marketing agency delivering marketing solutions for a digital world. Ingenex focuses on producing results through social media marketing, web design, SEO, SEM, Internet marketing, digital public relations and web analytics.
For more about Ingenex, visit http://ingenexdigital.com.
# # #