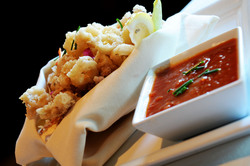 Boynton Beach, Florida (PRWEB) December 3, 2008
Milan's Italian Restaurant announced today that it will be opening its flagship restaurant in Boynton Beach in January. The restaurant features a state-of-the-art Enomatic Wine System and classic Italian cuisine with a modern twist. With an eye on today's economy, Milan's will offer traditional and contemporary Italian fare at an affordable price in a sophisticated yet comfortable environment. Milan's Italian Restaurant will be located at 1880 North Congress Avenue, #190, Boynton Beach, FL 33426.
Milan's Italian Restaurant was founded by Harold Katz and Josh Kimmel, who have over 50 years of combined experience in the restaurant industry. Their idea was to create affordable luxury by offering the highest quality cuisine, wines, spirits and service in an inviting, elegantly casual environment. Their mutual love of authentic Italian cuisine prompted them to develop a Tuscan-themed trattoria. Having discovered the Italian-bred Enomatic Wine System in their travels, Mr. Katz and Mr. Kimmel incorporated the concept into their vision.
Most of the entrees at Milan's Italian Restaurant range from $17-22, while salads and antipasti begin at around $12, and all are available in half portions as well. Mr. Kimmel stated, "It was important to us to create an environment where people could come and relax on a regular basis, not just when they could afford to. We were determined to make Milan's a place where you could enjoy fine dining on a budget. Coming to Milan's will feel like an extravagance because it is beautiful, the food is spectacular, the service is amazing, and everything is top-notch. But this kind of indulgence doesn't have to cost a fortune. We are making sure that the feeling of comfortable elegance and luxury remains, along with the highest quality cuisine and service, simply without the added price tag."
About Milan's Italian Restaurant:
Milan's is the premier elegantly casual restaurant in South Florida, serving authentic Italian cuisine and domestic and international wines in a sophisticated and comfortable environment. Milan's Italian Restaurant offers a modern twist on traditional, old-world favorites. With its full indoor and outdoor bars and trend-setting Enomatic Wine System, it is the newest hot spot for young professionals, wine aficionados and enthusiasts. Milan's flexible menu options also make it the ideal location for a family-style dinner, romantic date for two, group social event, special occasion or an evening out with friends. The ultra-fresh, authentic classical and modern Italian cuisine entices food lovers, gourmets and health-conscious diners. Courteous and personalized professional service combined with affordable yet gourmet cuisine makes Milan's the premier Italian restaurant with a modern twist serving the South Florida community.
For further information:
Please visit http://www.milansrestaurant.com.
###