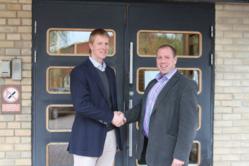 Andy is a well-respected leader with a wealth of knowledge and we are confident that he will continue to lead the business from strength to strength
Earls Colne, Essex (PRWEB UK) 12 November 2012
Andy Mayne started his career with Milbank in 1991, working his way through key on-site positions before being promoted to the post of Operations Director, where in 2008 he played a key role in the management team that restructured the business and saved numerous jobs. He has been part of the same team that has led the way in establishing the company's current corporate strategy and culture and today Milbank maintains a solid base, currently employing more than 150 people at its Essex base.
On his new role, Andy commented: 'I am extremely honoured to be chosen for this position. My 21 years with Milbank have not just given me a practical insight in to the business; they have shown me how deeply the Milbank family thinks about the welfare of its staff and the long-term future of the company. I would like to continue on the framework that the Milbank family started, and that Sean has carried on from his father; to deliver excellence and reinforce stability and security for the future.'
Former Managing Director Sean Milbank, who will take on the role of Chairman of Milbank, said 'I am proud to say that Milbank has been successful in achieving its strategy over the past two years, maintaining staffing levels despite exceptionally difficult market conditions. Andy is a well-respected leader with a wealth of knowledge and we are confident that he will continue to lead the business from strength to strength.'
On his own new role, Sean commented: 'The time has come for me to move on to the next challenge and take a step back from my day-to-day role as Managing Director of Milbank, however as Chairman I will continue to be actively involved in the business whilst pursuing new opportunities.'
Milbank – Editors notes

Milbank was founded by Geoffrey Milbank in 1947 to manufacture precast flooring products to his own design.
Geoffrey Milbank worked on developments in the far-east, and brought his knowledge to the UK to form a company making precast floors based near Chelmsford, Essex.
His products were pivotal in the rebuilding of Britain after the Second World War and business further developed throughout the 1960s.
In 1985 Milbank moved to its current 6 acre site at Earls Colne, Essex where it built a new factory and has continued to develop new products.