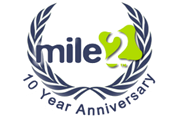 Mile2 will further enhance its world-class training through top end cyber security training already utilized by a number of government departments worldwide.
Tampa, FL (PRWEB) February 11, 2013
Field Training Solutions Ltd (part of the FSS Group of companies), today announced it has been awarded Accredited Training Centre status by Mile2. The collaborative partnership will allow Field Training Solutions Ltd. to deliver cyber security training and courseware of the highest caliber through its training centers in Italy located in Turin, Milan, and Piacenza.
Already present in five countries and conducting a number of high level operational security consultancy and risk management services to Fortune 500, FTSE 100, Forbes 10 High Net Worth Individuals, as well as governments and energy multinationals, Field Security Services Group's collaboration with Mile2 will further enhance its world-class training through top end cyber security training already utilized by a number of government departments worldwide.
"What makes FSS so unique is that they possess true information assurance consultants and not simply text book instructors. With FSS market presence and industry expertise, we are on track to become Italy's cyber security certification provider of choice. After all, we practice what we preach," said Raymond Friedman, CEO of mile2.
"We are very excited in having being awarded the Accredited Training Centre status by Mile2 and look forward to a long-standing collaboration with them. Security management in today's age cannot effectively mitigate risks without a strong cyber security component. Realizing the gap in the market between security professionals and IT security professionals, we carefully proceeded to review and attentively scour the market for the very best cyber security courses that we could offer and integrate with our operational experience and risk management syllabus. Mile2's reputation, in-depth and up to date course material far supersedes anything available on the market today. Testament of this can be seen by the number of military and government departments adopting Mile2 methodology. We firmly believe that integrating Field Training Solution's risk management delivery in the physical security and intelligence spheres paired with Mile2's expertise in the cyber security realm will provide today's security consultants with all the necessary tools to effectively operate in the 21st century," said Edoardo Giglio, Group Operations Director for FSS Group.
For more information on Field Training Solutions Ltd: http://www.fieldtrainingsolutions.com
About FSS Group
Field Security Services Limited (FSS) is a privately owned, discreet, security and risk management company established by the current directors-shareholders who are active in the company.

United Kingdom HQ-Hereford
Corporate Office-Victoria London SW1
The Field Security Group consists of 5 security and risk management companies: FSS UK Ltd. , FSS
Jordan Inc., FSS Pakistan PVI (Ltd), Field Services Liberia Inc. , Field Training Solutions Ltd.
FSS supply a wide range of risk management and mitigation services on a global basis to governmental, industrial, corporate and private clients. The Company specializes and focuses on corporate risk management and service provision in 3 disciplines predominantly in developing countries and regions, and these are:
Security Services
Health & Safety Services
Medical Services Provision and Training
Our core personnel are deriving from UKSF and law enforcement special operations units. They have all completed successful careers in their chosen fields and have operated in many challenging overseas areas including; Africa, South America, the Middle East and the Far East.
For more information on FSS Group: http://www.fieldsecurityservices.com
About Mile2
Mile2 designs, develops, and delivers cyber security certifications and provides Information Assurance services that meet military, government, private sector and institutional specifications. Mile2 courses and certifications teach the fundamental principles of cyber security and follow a certification track that leads to advanced hands-on skills training for penetration testing and network forensics. Over the course of a decade, Mile2 has developed a robust schedule of cyber security certifications for prominent global organizations such as the C)ISSO (Certified Information Systems Security Officer) for the Canadian Department of National Defense; C)PTE (Certified Penetration Testing Engineer) for the United States Air Force; C)NFE (Certified Network Forensics Examiner) for a United States Counterintelligence Agency; and C)SWAE (Certified Secure Web Application Engineer) for Boeing Aerospace. In doing so, Mile2 has become the de facto standard for organizations and militaries worldwide. Presently, Mile2 has approximately 100 locations in its global network of Authorized Training Centers.
For more information: http://www.mile2.com