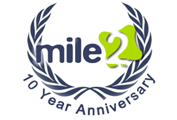 Students receive a solid foundation of instruction that will enable them to create meaningful business continuity plans.
Tampa, FL (PRWEB) February 14, 2013
Mile2, reputed organization and a worldwide name in Cyber Security now launches its Certified Disaster Recovery Engineer course to educate students about DR/BCP domain. The comprehensive Certified Disaster Recovery Engineer course goes beyond traditional BCP training, preparing students for industry certification in Business Continuity planning, and presenting the latest methodologies and best practices for real-world systems recovery. Competent and diligent staff of mile2 and Raymond Friedman, the CEO of organization continously put their dedicated efforts to introduce the most advanced and useful professional courses which further help students to enhance their knowledge and stay updated with the evolving technology.
Students receive a solid foundation of instruction that will enable them to create meaningful business continuity plans. In addition, students will learn the latest methods for protection and recovery of technology in their organizations. Mile2 trainers are more than instructors, they have extensive experience and are active in the industry. At Mile2, they believe emphasis on both industry standards and real world experiences are essential to providing a robust and comprehensive learning experience. The key areas they provide services in are: Information Assurance, IT Security, Risk Management, Data Protection, Governance and Compliance.
Mile2® was developed in response to the threat of corporate and national information security attacks in the aftermath of 9/11. Mile2® designs, develops, and delivers Information Security training and Information Assurance services that meet military, government, private sector and institutional specifications. In doing so, Mile2® has become the de facto standard for organizations and militaries worldwide.
Ray Friedman/ Raymond Friedman is the CEO and President of mile2® and has been in the IT Security Space since 2002. Mile2® is a globally respected IT Security Organization that focuses on security training for national and corporate entities who understand the value of "knowing your enemy." By training businesses and organizations to think like an attacker, their intellectual property and data remains secure. mile2®'s overarching goal is to establish and contribute to a universal standard that has been adopted by government, military and corporate organizations whose intellectual property, secrets and infrastructure assets are significant strategic targets for entities with malicious and criminal intent.
To know more log on to http://www.mile2.com/