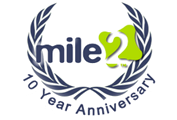 They also provide industry-focused consultancy and advisory services for public and private sector clients.
Florida (PRWEB) November 21, 2012
A reputed organization and a worldwide name in Cyber Security, mile2@ along with their worldwide network of authorized training partners now offers advance Cyber Security training programs and consulting services that meet military, government and corporate specifications. They have sliced out the program fees by quite a margin. The lowered charges of consultancy and traning program are the result of mile2's 10 years of dedicated service successful completion. This huge accomplishment of mile2 and Raymond Friedman has been posible with the support of the company's highly skilled staff which put constant hardship to make the educational programs and consultancy services better.
At mile2, their results-driven approach to information assurance helps clients to establish strategic and operational policies and procedures, conduct security engineering activities by utilizing sound, proven methodologies, and manage information-related risks to ensure the confidentiality, integrity, and availability of the data and delivery systems.
They also provide industry-focused consultancy and advisory services for public and private sector clients. They are an experienced firm that leverages their experience to provide a cost effective and value based service to the clients. The key areas they provide services in are: Information Assurance, IT Security, Risk Management, Data Protection, Governance and Compliance.
Ray Friedman/ Raymond Friedman is the CEO and President of mile2® and has been in the IT Security Space since 2002. While in this industry, he has been actively engaged in consulting for global financial and government institutions; performing security audits, penetration tests and digital forensics services. During his tenure at mile2®, Raymond has spearheaded the development of the present series of mile2® certifications which have become globally recognized by Militaries worldwide. Presently, Raymond carries several certifications and advanced degrees such as the Master of Science in Accounting – Forensics & Controllership, the Certified Information Systems Security Officer, Certified Penetration Testing Engineer and Certified Digital Forensics Examiner.
mile2® is a globally respected IT Security Organization that focuses on security training for national and corporate entities who understand the value of "knowing your enemy." By training businesses and organizations to think like an attacker, their intellectual property and data remains secure. mile2®'s overarching goal is to establish and contribute to a universal standard that has been adopted by government, military and corporate organizations whose intellectual property, secrets and infrastructure assets are significant strategic targets for entities with malicious and criminal intent.
To know more log on to http://www.mile2.com/