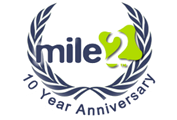 Upon completion of the C)ISSO training, individuals take an online examination through Mile2 before obtaining their certification
Tampa, FL (PRWEB) December 12, 2012
Mile2, a leader in Cyber Security Training, recently announced the Certified Information Systems Security Officer training program at Tampa, Florida. Mile2 developed the C)ISSO certification for the ISSO in the Canadian Department of National Defense. The C)SSO 5 day course is designed for a forward-thinking security professional or consultant that manages or plays a key role in an organization's information security department.
Upon completion of the C)ISSO training, individuals take an online examination through Mile2 before obtaining their certification. C)ISSO training is available to information security officers working in the private and public sector. C)ISSO is an independent information security officer certification that includes content from two conventional informational security trainings, the Certified Information Systems Security Professional (CISSP) and the Certified Information Security Manager (CISM). The focus of CISM is to make information risk management the focus of information security efforts.
C)ISSO is the name of an informational security training program offered by Mile2. Mile2 and Raymond Friedman are aimed at providing Cyber Security training and consulting services that meet military, government and corporate specifications. Ray Friedman, CEO of Mile2 has spearheaded the development of the present series of Mile2 certifications which have become globally recognized by Militaries worldwide. Presently, Raymond carries several certifications and advanced degrees such as the Master of Science in Accounting, the Certified Information Systems Security Officer, Certified Penetration Testing Engineer and Certified Digital Forensics Examiner.
About the company:
Mile2® was developed in response to the threat of corporate and national information security attacks in the aftermath of 9/11. Being a globally respected IT security organization, mile2®, focuses on security training for national and corporate entities who understand the value of "knowing your enemy." By training businesses and organizations to think like an attacker, mile2® helps clients ensure that their intellectual property and data remain secure. mile®2's overarching goal is to establish and contribute to a universal standard that has been adopted by government, military and corporate organizations whose intellectual property, secrets and infrastructure assets are significant strategic targets for entities with malicious and criminal intent. To learn more visit http://www.mile2.com/