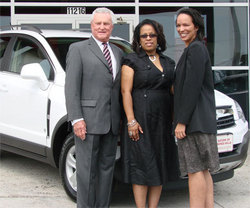 Volunteers like Archiena are the American Cancer Society's greatest resource, and we would not be able to offer our local programs for cancer patients and their families without them
Owings Mills, MD (PRWEB) August 27, 2008
The American Cancer Society and MileOne Automotive recently announced the winner of their raffle for a new 2008 Saturn Outlook sports utility vehicle: Archiena Beaver, a resident of Owings Mills, Maryland. The vehicle was donated by MileOne to help the Society increase cancer awareness and raise funds for the nonprofit organization. is the winner of the annual car raffle.
From January through June, thousands of Maryland residents offered raffle tickets to friends, family and coworkers as a way to raise funds for the Society's signature event, Relay For Life. Across Maryland, more than 50 Relay For Life events are held each year to honor and remember those affected by cancer, encourage early detection of the disease and support legislative issues related to cancer. Beaver, a nurse at the University of Maryland Medical Center took delivery of her new Saturn Outlook on Monday, August 5th in a ceremony attended by Gloria Jetter, regional executive director for the Society's Maryland region and Jerry Fader, president and chief operating officer of MileOne Automotive.
"Volunteers like Archiena are the American Cancer Society's greatest resource, and we would not be able to offer our local programs for cancer patients and their families without them," said Gloria Jetter, regional executive director for the Society. "This raffle and our ongoing partnership with Mile One help our organization immensely. Mile One's commitment has enabled us to enhance our efforts across the state through prevention and early detection programs, as well as to provide free patient services like transportation and lodging."
MileOne has sponsored the automobile raffle for the Society's Relay For Life for the past eight years, offering a Volkswagen Beetle, PT Cruiser, two Mercedes C-Classes, Saturn VUE, Jeep Liberty Sport, Saturn Relay and Saturn Outlook. The automotive group's sponsorship of Relay for Life and Making Strides Against Breast Cancer has raised over $2 million for the Society.
"The MileOne family is committed to giving back to the community, and we are proud to partner with the American Cancer Society to increase cancer awareness and raise dollars for fighting the disease," said Jerry Fader, president and chief operating officer of MileOne Automotive. "In Baltimore and across Maryland, our employees participate in the Society's Relay For Life events in order to educate others on the importance of early detection and cancer prevention."
About The American Cancer Society (http://www.cancer.org)
The American Cancer Society is the nationwide community-based voluntary health organization dedicated to eliminating cancer as a major health problem by preventing cancer, saving lives and diminishing suffering from cancer through research, education, advocacy and service. For more information about the American Cancer Society or Relay For Life, please call 1-800-ACS-2345, available 24 hours a day, seven days a week, or visit http://www.cancer.org.
About MileOne (http://www.mileone.com)
MileOne Automotive operates 65 retail automotive franchises representing 28 different brands and 9 collision centers in Pennsylvania, Maryland, North Carolina and Virginia with a focus on the Baltimore-Washington, Hampton Roads/Virginia Beach, Nags Head/Elizabeth City and Wilkes-Barre/Scranton major metro areas. MileOne.com allows customers to research new, used and fuel-efficient luxury, import and domestic cars and trucks, send information about vehicles to their mobile device, schedule service appointments, buy parts and accessories, play automotive games, and download automotive wallpaper and mobile ring tones. For more information or to find a quality Mile One dealership near you, please visit http://www.mileone.com.
###