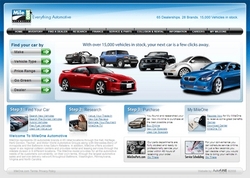 As a company, we are committed to providing our customers access to the automotive industry on their terms. It's not just part of our mission statement - we live by it and the change to AutoOne reflects this commitment
Baltimore, MD (PRWEB) September 26, 2008
Today, MileOne Automotive announced the completion of a month long redesign and transition to their new web provider, AutoOne Media for all of their dealership new and used car sites, including a fully revamped MileOne.com which allows visitors to search out all new and used cars across 28 different manufacturers from Virginia, Pennsylvania and Maryland. The change to AutoOne Media's DealerPro Sites was driven by a need to have cutting edge websites, which rank at the top organically with the major search engines, especially Google, and provide MileOne with the flexibility to explore the rapidly expanding web 2.0 technologies such as RSS feeds, video and blogging on which many of their consumers rely.
"As a company, we are committed to providing our customers access to the automotive industry on their terms. It's not just part of our mission statement - we live by it and the change to AutoOne reflects this commitment," said MileOne's Chief Marketing Officer, David Metter. "Over the last few years, we have been implementing online tools such as instant financing approval, trade value estimators, and new and used car videos that help our consumers do business with us from the ease and comfort of their home or office. Over the last 12 months, we realized we needed a website provider that allowed us to not only easily integrate these current tools, but many others like vehicle RSS feeds, comprehensive research videos and data for new and used cars and trucks, CarFax certified vehicle listings, enhanced send to mobile functionality and much more. We believe buying, servicing or accessorizing a car should be easy as 1, 2, 3 and you will see this theme integrated throughout our new websites."
After signing with AutoOne in June of 2008, Metter and his eCommerce Manager Jeff Kershner, worked closely with their new provider to come up with the new designs and enhanced features and functionality for the new sites. Over the last month, all MileOne hub sites, including HallAuto.com, MotorworldGroup.com, and BaltimoreSaturnRetailers.com ; the individual dealership sites for the 64 franchises; MileOne Service.com and the redesigned MileOneParts.com migrated to AutoOne's DealerPro platform, which gives the sites an exceptionally strong foundation for site optimization and allowed MileOne to do away with many of their duplicate sites for compliance, such as Honda, Acura, BMW, Scion and Volvo.
"Working with AutoOne on this transition has been great. Both companies see the value in having sites that allow customers to get to the information they want quickly - which is what search engine optimization is all about," said Kershner. "No customer wants to go to a million different sites and pages to research their vehicle and with the new MileOne.com, they won't have to. Car shoppers can use our great vehicle comparison tools and videos to decide which new or used car or truck they want, then with our easy inventory search they can locate which dealership has that vehicle, fill out an online credit application for instant approval, get their trade value estimated and set an appointment to test drive their new car all from the site. Once they purchase the car, they can go back to MileOne.Com to schedule their first service appointment and buy accessories for their new ride! It's not total transaction online yet, but it's getting close!"
MileOne invites customers to test drive the all new MileOne.com and to visit the blog at MyMileOne.com and tell MileOne what they think of the new sites and what else MileOne can do to make their car shopping as easy as 1, 2, 3.
About MileOne Automotive (http://www.mileone.com)
MileOne Automotive operates 65 retail automotive franchises representing 28 different brands and 9 collision centers in Pennsylvania, Maryland, North Carolina and Virginia with a focus on the Baltimore-Washington, Hampton Roads/Virginia Beach, Nags Head/Elizabeth City and Wilkes-Barre/Scranton major metro areas. MileOne.com allows customers to research new, used and fuel-efficient luxury, import and domestic cars and trucks, send information about vehicles to their mobile device, schedule service appointments, buy parts and accessories, play automotive games, and download automotive wallpaper and mobile ring tones. For more information or to find a quality MileOne dealership near you, please visit http://www.mileone.com.
About AutoOne Media® (http://www.AutoOneMedia.com)
AutoONE Media® provides dealers, dealer groups, OEM's and ad associations a comprehensive online solution with DealerPRO® premium websites and customized search engine marketing solutions. Designed exclusively for the automotive industry, DealerPRO will increase your online presence and provide real, measureable results. AutoONE Media knows that each automotive dealership is different so our approach is not "one-size-fits-all." We help implement an online presence designed specifically with your automotive dealership needs in mind. AutoOne Media's products and solutions help increase your overall website traffic, while driving more quality leads and strengthening dealership brand awareness.
###