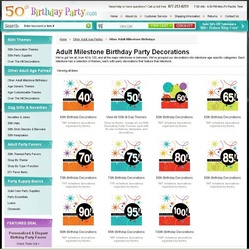 The team quickly put together a set of offerings for major adult birthday milestones all the way to age 100.
Enumclaw, WA (Vocus) October 21, 2010
50thBirthdayParty.com announced today that it has expanded its line of birthday party supplies to include offerings for older aged milestone celebrations. The organization is seeking to become the leading supplier of party decorations, favors, and accessories to people planning birthday parties for people over the age of 50. With categories for almost every mature aged birthday milestone, e-Commerce website now offers what the company believes is unparalleled selection for merchandise in these categories.
"We had so much fun working to launch the website that was focused on the '50' aged events, that after the initial launch, we immediately started looking at other age categories. Working with our initial customers taught us a great deal about the marketplace for birthday party supplies for men and women, and we learned that these more mature milestones categories were underserved," said company CEO Edward Hechter. "The team quickly put together a set of offerings for major adult birthday milestones all the way to age 100."
At the core of the website, 50th Birthday Party puts a focus on offering favors, gag gifts, novelties, party supplies, and decorations devoted to the top selling "50" aged milestone. Many of these products are not emblazoned with a "Fifty" on the product, and can the company found many customers purchasing products for other aged parties. These products include such items as clothing, tableware (including plates and napkins), centerpieces, banners, candy, and other party decorations.
"The build-out of other categories adult aged milestone birthday decorations was a logical next step for us," shared GM Traver West. "Our supply chain partners have helped us quickly expand the offerings we have, and our project team quickly developed a merchandising strategy to make the shopping experience simple, and helpful to our customers."
A new section of the site devoted to adult milestone birthday decorations features 11 milestone categories, each featuring a variety of party themes that feature that age's number in the décor. A great example of this the 80th birthday decorations section which includes seven unique decorating themes, a section for generic "80" party items, and a series of tips and ideas from the company's team of professional party planners.
With these new product offerings, the website features sections now for 40th, 50th, 60th, 65th, 70th, 75th, 80th, 85t, 90th, 95th, and 100th birthday celebrations. In the coming weeks, hundreds of new products will be added to the site, building filling out and increasing the selections within existing product categories, plus adding a variety of new product categories.
About 50thBirthdayParty.com:
50thBirthdayParty.com is operated by PartyPail, Inc. from its corporate offices and distribution center in Enumclaw, Washington. The company currently operates six e-commerce retail party decoration websites with a focus on adult milestone celebrations such as weddings, baby showers, baptisms, bridal showers, 50th birthday, and 1st birthday parties. Having served over 100,000 customers, the company is committed to operating as a family friendly organization to both customers and staff alike.
All trademarks used are properties of their respective owners.
###