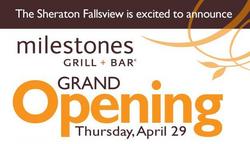 Niagara Falls, Ontario (PRWEB) May 1, 2010
They said they were "new" to Vocus. The contact I spoke with the first time was Brianna. For the first time, I explained the Easy Submit process to them and then sent them the email checklist of items they needed to confirm before distribution.
The Fallsview Boulevard District continues to redefine Niagara Falls with its upscale hotels, entertainment and dining as it welcomes the newest addition to its superb collection, Milestones Grill + Bar on April 29th.
Located at the top of the boulevard in the Sheraton Fallsview Hotel & Conference Centre, 6755 Fallsview Blvd. and directly overlooking Niagara Falls, Milestones offers globally inspired dishes, a knowledgeable staff and a warm, welcoming ambiance.
Considered a trendsetter in creating innovative and appetizing food like its signature Spinach & Artichoke Dip, Kobe Beef Sliders or Bocconcini garlic bread and beverage offerings, Milestones has long been a favourite place to celebrate life's milestones; From your first date to your 50th wedding anniversary or your favourite team's winning score to baby's first tooth, whatever the occasion, quality food, and experience await you.
Every Wednesday is Date Night
Niagara Falls is Canada's official honeymoon capital and soon to be the romance capital as Milestones rolls out Wednesday Date Night. Every Wednesday, beginning May 5th Milestones will be bringing economic relief to date night with dinner for two for just $50. Duos can share a delicious appetizer and dessert and choose from a variety of Milestones' most popular entrees for a memorable dinner out.
About Milestones Grill + Bar
Founded in 1989, Milestones Grill + Bar is an upscale, casual dining restaurant that originated in Vancouver on English Bay. Today, Milestones boasts over 35 restaurants located in British Columbia, Ontario and Alberta. On an annual basis, Milestones serves more than 5.5 million guests, a true testament to its commitment to providing Canadians with innovative quality menu items served in a vibrant and social atmosphere.
###