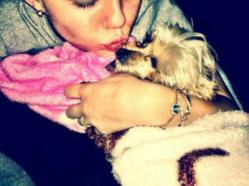 Two of our editors are dealing with the very recent loss of their own pets. This painful topic hits us very close to home.
Boca Raton, FL (PRWEB) December 14, 2012
The popular actress, pop singer, and dog rescue advocate, Miley Cyrus announced the passing of her beloved Yorkie, Lila, on Tuesday.
The star Tweeted, "For everyone asking … I have never been so hurt in my life. My heart has never been so broken….. Lila my sweet baby girl has passed away."
Lila joined the Cyrus family in 2011, and kick-started Miley's dog rescue efforts. Since bringing Lila into the family, Miley and fiancé Liam Hemsworth have also rescued Ziggy, Floyd, Mary Jane, and Happy, and encouraged thousands of fans to do the same.
"Dogington Post has always been a fan of Miley Cyrus because of her true devotion to rescuing dogs," said Brandy Arnold, Content Editor for the site. "Many of us have felt the pain of losing a dog and can empathize with Miley's suffering. The news of any dog's passing is painfully felt in all of us and we are truly sorry for her loss."
In light of Lila's passing, Dogington Post published an article highlighting the loss of the star's pup. The site also published many articles offering it's readers advice on how to deal with the loss of a pet; knowing when it's time to let a dog go; and tips on how to deal with the grieving process.
The site even published a "Letter from your New Puppy", written from the point of view of a new dog, brought in the home after the loss of a beloved pet.
The Dogington Post reaches up to 2.5 million dog lovers every week. By bringing awareness to Miley Cyrus and the loss of her dog, the site will reach out to other dog parents who might be struggling with the death of their own dog or agonizing over a decision to end a dog's suffering; a choice that is never easy and is very difficult to overcome.
"In fact," said Arnold, "two of our editors are dealing with the very recent loss of their own pets. This painful topic hits us very close to home."
For more information about Dogington Post and their effort to reach out to Miley Cyrus and other dog parents dealing with loss, visit http://dogingtonpost.com and check them out on youtube.
About Dogington Post:
DogingtonPost.com was created for the love of dogs. It promises a forum of informative articles, newsworthy dog stories, health and breed information, and heartwarming videos. The site addresses current issues affecting dogs and their human parents – from serious health concerns to lifestyle issues on feeding, grooming and the overall well-being and mental health of dogs. It is the Internet newspaper, all about dogs.