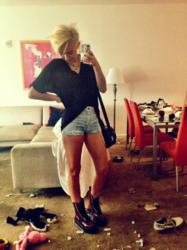 After seeing this photo, we're wondering if Miley needs to shift her focus away from posting to Twitter and more on her working with her pups.
Boca Raton, FL (PRWEB) September 18, 2012
While the 19-year old singer and actress Miley Cyrus has been getting media attention over the arrest of a 40-year old stalker hiding in her bushes; a recent alleged nightclub brawl alongside fiancé Liam Hemsworth: and her shockingly short pixie haircut, the teen sensation caught the attention of the Dogington Post for another reason – the condition in which her four dogs have left her Los Angeles home.
The famous teen is a long time advocate of pet adoption. She and Hemsworth have five dogs – Lila, Floyd, Ziggy, Happy and Mary Jane. Happy is the pup the actress famously rescued from a Walmart parking lot earlier this year.
Miley often tweets photos of herself and her dogs. It was one of these tweets that caught the attention of Dogington Post – a self-taken portrait of Miley in her Los Angeles home surrounded by evidence of her dogs. Shredded paper, a single shoe, several dog toys and food bowls were strewn about the living room.
"It's no secret that Miley loves her dogs," said Brooke Arnold, Feature Writer for Dogington Post. "But we were appalled at the mess she allows them to make of her home! We support Miley and her efforts to promote dog adoption, but after seeing the photo, we're wondering if she needs to shift her focus away from posting to Twitter and more on her working with her pups."
Dogington Post reaches 2.6 dog lovers each week. The dog news site published the photo of Miley in her home to gauge if their readers' opinions are similar to that of the editors of the popular website.
In addition, Dogington Post published articles for dog parents such as, "How to Keep Your Home from Smelling Like a Kennel" and other training tips and tricks for keeping a home from 'going to the dogs'.
For more information about Dogington Post and their effort to support pet parenting, visit http://dogingtonpost.com and check them out on YouTube.
About Dogington Post:
DogingtonPost.com was created for the love of dogs. It promises a forum of informative articles, newsworthy dog stories, health and breed information, and heartwarming videos. The site addresses current issues affecting dogs and their human parents – from serious health concerns to lifestyle issues on feeding, grooming and the overall well-being and mental health of dogs. It is the Internet newspaper, all about dogs.