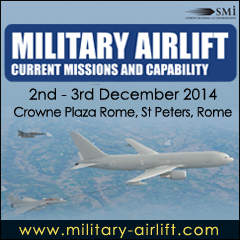 (PRWEB UK) 10 September 2014
SMi are delighted to announce their full speaker line-up at this year's Military Airlift conference: the largest bespoke military airlift conference in Europe.
Military Airlift 2014 will focus on ongoing missions being carried out across the world and how the correct and appropriate airlift capability is deployed and the development of new capability. There will also be an emphasis on the changing landscape of airlift with changes in multinational commands such as the EATC and the specific challenges posed by African missions in Central Africa. Click here for more information.
NEW SPEAKER ANNOUNCEMENT
SMi are pleased to announce two new speaker presentations will take place on day two of the conference:
Brigadier General Blaine Holt, U.S. Deputy Military Representative to the NATO Military Committee from EUCOM will present on: Air Mobility in Europe: The Grand Challenge.
Colonel Niels Lokman (Netherlands), Head Functional Division, European Air Transport Command (EATC) will present on: Optimizing effectiveness in Air Transport in a multinational environment. Click here for further details.
The 2014 speaker line-up also features:

Colonel Luigi Riggio, Commander 14th Wing, Italian Air Force
Group Captain Andrew Killey, Assistant Head Defence Supply Chain Operations and Movements (DSCOM) - Defence Movements Team Leader, Royal Air Force
Lieutenant General Sergei Drozdov, First Deputy Commander, Ukrainian Air Force
Cesar.V. Arroyo, Chief Aviation Service, World Food Programme
Brigadier General Miguel Angel Martin Perez, Head of Plans and Policy Division, Spanish Air Force
Colonel Reinhard Krell, Director, Movement Coordination Centre Europe
Click here to view the full conference programme
The £100 early bird discount expires on the 30th September, so please visit military-airlift.com to secure your place today.
Alternatively contact the team on: +44 (0) 207 827 6054 for further information.
---------------------ENDS-------------------
About SMi Group
The SMi Group is a highly professional, independent and global event-production company that specializes in Business-to-Business Conferences, Workshops and Masterclasses, and online Communities. The SMi Group creates and delivers events in the Defence, Security, Energy, Utilities, Finance and Pharmaceutical industries. For more information, please visit http://www.smi-online.co.uk