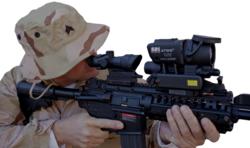 If the US small business fails, then we all fail
Las Vegas, NV (PRWEB) June 29, 2012
SPI Corp is a leading distributor and manufacturer of thermal scopes for use on a variety of rifles and weapon systems. Their products are in use by military, law enforcement and civilian agencies across the nation.
The U.S. Government is proposing to cut some $500 billion in funding from budgets starting in January unless Congress can come to an agreement on debt reduction. The funds are to be automatically "sequestered" until congress can come to an agreement. Once sequestration takes place the funds may never make it back into budgets after an agreement is finally reached. The sequestration issue has U.S. military contractors reeling in an industry that has already suffered from close to $500 billion in cuts over the next decade. Many US defense giants such as Lockheed Martin, Boeing and Northrop Grumman claim that the budget cuts would result in the lay off of thousands of workers. The Aerospace Industries Association predicts the possible loss of over 1,00,000 jobs as a result of full defense cuts. The impact on small business is even direr with many anticipating shutting their doors if the budget crisis is not averted. SPI Corp, a small defense contractor in Las Vegas, Nevada has come up with a novel approach to help stimulate orders and stave off the impending cuts. They have slashed prices on their most popular offering (the thermal scope) and they have opened the thermal scope market to civilian customers.
"We are proud of our support of U.S. Military and Law Enforcement agencies," stated Randall Kolchins, Director – SPI Corp. "It is our mission first and foremost to continue our support of these agencies into the future. In order to be there for our troops when the time comes we have to keep our doors open today. We decided that we would have to expand the thermal scope market to include qualified civilians in order to increase volume and reduce pricing thereby increasing thermal scope orders," explained Mr. Kolchins.
Previously, many thermal scope technologies were restricted to Military customers. Most often this was a matter of company policy and not a fact of law. U.S. Citizens are allowed to possess thermal scope technology according to US law. "Our decision to open the thermal scope market to civilians and civilian agencies means that we can now lower prices and increase volume across our thermal imaging line. This will keep our doors open and save jobs up and down the supply chain." Said Mr. Kolchins. "As a small US business, it is our duty to fight our way through economic downturn taking every punch thrown at us and counter with a blow. This battle is the one that will define our nation in the coming decades and it is we, the small business, that is on the front lines. If the US small business fails, then we all fail. With thermal scope in hand SPI Corp will prevail."
SPI has indicated that price cuts will begin on its most popular thermal scopes. The FLIR T-60 ATWS Clip On Thermal Scope, manufactured by FLIR Systems Inc., will be the first to see cuts of up to 40% in pricing. They will follow with cuts to their popular X26 and X28 thermal scope product lines. "The FLIR T-60 Thermal Scope is our most popular unit with federal agencies". Indicated Jim Santana, Sales Manager – SPI Corp. "Management is really going in a great direction here. The T-60 thermal scope represents a true military grade device and not the typical thermal scope knock offs on the market today. This is a great opportunity for US Citizens to purchase the real deal at an affordable price".
SPI Corp has been in the business of manufacturing and distributing Thermal Scope Solutions for well over a decade. Existing products include PTZ thermal imagers, thermal scopes and infrared cameras.
Potential customers interested in learning more about the FLIR Systems T60 Thermal Scopes or for purchasing options including the entire line of thermal scope solutions offered by SPI Corp can visit http://www.x20.org. Customers seeking immediate attention regarding these products should contact Jim Santana at 702-369-3966.