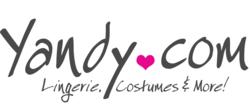 Phoenix, AZ (PRWEB) October 21, 2012
Yandy.com shoppers are opting for a sexy way to show support for the troops this Halloween, in sexy army costumes. With Halloween right around the corner, Yandy.com, online retailer of Halloween costumes, has seen a flood of interest in camouflage and military inspired costumes from customers.
Yandy offers more than 50 sexy versions of army costumes for shopper to peruse at prices that will not leave them with empty pocket books. With half of the Yandy's collection of army costumes available for less than $50, shoppers can afford to shop for a second look for their Halloween parties.
Although all of Yandy's army costumes are a popular choice among shoppers this Halloween season, there are some stand out styles that outsell the rest. The Military Babe Costume is one of Yandy's top sellers and it features a camouflage print, cut out romper with an open back, bullet belt, cross over front detail, bullet garter and hat. Another popular option is the Pin Up Army Girl Costume which nods to a vintage style and features a camouflage green mini dress with attached garters and fringe detail, mini bolero jacket with an attached neck tie and mini army hat.
Yandy.com also offers shoppers several group costumes ideas. One of the most popular group costume ideas this Halloween being the branches of the military costumes. With the sexy military branch group costume, one person goes as a sexy marine, one as a sexy army cadet, one as a sexy air force officer and one as a navy girl.
At Yandy.com, customers not only have so many options when shopping for sexy army costumes to choose from but they also receive additional incentives for shopping like free, flat rate shipping on orders over $70 as well as a free panty with every order.
About Yandy.com
E-commerce is on the rise and Yandy.com is one of the largest online retailers of lingerie, sexy Halloween costumes, swimwear and clothing on the web. Founded in 2003, Yandy boasts more than 6,500 products always in stock at easily affordable prices. Yandy ensures that every customer will receive a safe, secure and private online shopping experience and is backed by COMODO online security and Google Checkout. Yandy is dedicated to customer service and only sells what is in stock which allows for quick, same day shipping. Offering the highest quality products at the most affordable prices in the market, Yandy has become a leader in e-commerce. Yandy works closely with all of the manufacturers they distribute for and hand select all of the items on the Web site to ensure customers have the largest and most diverse collection to choose from. In addition, the customer service team at Yandy is unrivaled. With attentive and helpful operators, should a question or problem arise, the customer service team at Yandy is always willing and able to assist. At Yandy, every customer can Be Sexy.