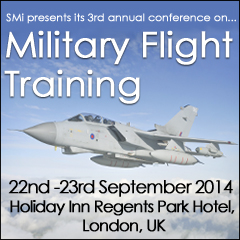 London, UK (PRWEB UK) 14 August 2014
LATEST ATTENDEES INCLUDE: Allied Wings, J.F. Lehman & Company, Airbus Defence & Space plus many more
QinetiQ, who have just announced they have secured a five-year deal worth £33m with the Ministry of Defence, will be presenting at this year's Military Flight Training conference.
QinetiQ will allow soldiers and airmen to practise working together in simulators before being deployed abroad. Air force pilots and army commanders will be able to train in a virtual battlefield – even though they might be thousands of miles apart. The system links aircraft simulators, ground forces control tents, and even individual troops so they can train on working in combined operations.
Have the chance to discuss the latest contract with QinetiQ as they present at the 3rd annual Military Flight Training conference.
Helen Dudfield, Chief of Training and Fraser Bruce, Systems Engineer from QinetiQ will present on day two of the conference on: Transforming Training in the Digital Age – Future Training Visions: 2020. Click here for more details.
The 2014 conference agenda also includes presentations from:

Air Commodore Terry Jones, Director Flying Training, No22 Training Group, UK MoD
Colonel Lance Bunch, Station Commander, 80th Flying Training Wing, US Air Force
Brigadier General Bruce Ploughman, Commander of 2 Canadian Air Division, Royal Canadian Air Force
Captain Bjorn Persson, Head of Education Programmes, Air Combat Training School, Swedish Armed Forces
Tim Davies, Officer Commanding OC Standards and Instructor Training Hawk T2, RAF Valley
Captain Gunnar Borch (ret), Associate / Former General Manager of the NATO Airlift Management Agency, Allied Support Services International Group
Please visit the website to view the full conference brochure
For further information please visit militaryflight-training.com or contact the team on: +44 (0) 20 7827 6054.
The Telegraph, 12 August 2014, click here to view article
---------------------ENDS-------------------
About SMi Group
The SMi Group is a highly professional, independent and global event-production company that specializes in Business-to-Business Conferences, Workshops and Masterclasses, and online Communities. The SMi Group creates and delivers events in the Defence, Security, Energy, Utilities, Finance and Pharmaceutical industries. For more information, please visit smi-online.co.uk.