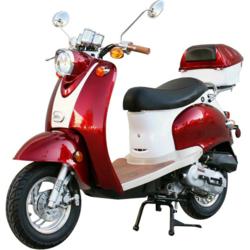 it's hard to beat the economy of 100 mpg!
Norfolk, VA (PRWEB) October 16, 2012
Exchange USA offers customers new line of gas scooters and dune buggy's available to be purchased through exclusive military loan program for gas scooters. Active Duty and Career Retired US Military Personnel are eligible to apply for unique finance program offering no money down and low monthly payments.
"By aligning with one of the largest distributors in the US, we are able to offer huge selection, discount pricing and delivery anywhere in the USA-including Alaska and Hawaii. Scooters have become more popular lately with the incredible rise in gas prices- it's hard to beat the economy of 100 mpg!"
High gas prices hit us everywhere. Fuel costs are passed on to the consumers by freight companies, making the cost of all retail goods proportionally more. Groceries, clothes, and furniture are just a few items that are directly impacted by this. But it's at the pump where these costs hit most consumers the hardest. Even if you have a short drive, 4 dollar a gallon gas is really taking food off of the table.
A scooter can help minimize the cost impact in very real terms. Fun to ride, easy to manage and very simple from a mechanical standpoint, Exchange USA has more and more customers buying scooters to save on gas. Consider getting 5X the mileage; if you currently drive a car that gets 20mpg, riding a 100mpg scooter means saving 16 cents every mile you drive. $16 for every 100 miles and if you drive a couple hundred miles a week that's approximately $1664.00 in savings over the course of a year.
When the cost savings in a year is more than the average cost of buying a scooter, it helps explain why scooters are one of the fastest growing motor groups in the country. Why wait? With impressive selection, discount pricing, and competitive military finance programs, it's easy to realize the advantages a scooter brings to the commuting and travel equation.
Exchange USA is based Norfolk Virginia, home to the world's largest Navy Complex. Offering consumer and military financing on lifestyle products and travel, Exchange USA was founded in 2009 and serves Active Duty and Career Retired US Service Members around the world. They are located at 4039 E Little Creek Rd and can be reached at 888-998-9974 or through their website at http://www.myexchangestore.com