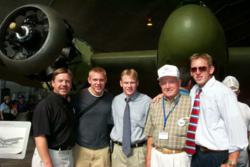 We want to support and encourage military reunions any way we can.
Cincinnati, OH (PRWEB) July 13, 2012
For years, MilitaryMilestones.com has delivered quality custom military rings to those who serve in the United States Armed Forces. Now the company is proud to encourage military reunions by sponsoring custom ring giveaways.
Co-Owner Eric Sztanyo stated, "We want to support and encourage military reunions any way we can. That's why we are happy to sponsor them by giving away one of our custom rings. If we can help, in a tiny way, incentivize veterans to attend their reunions, we are very proud to participate in that opportunity."
In 2002, Sztanyo stood by his grandfather when the Wright-Patterson Air Force base in Dayton, OH revealed its Bristol Beaufighter. His grandfather had flown a Beaufighter during World War II, and the ceremony served as a reunion for his old unit. Sztanyo was moved by the depth of the relationships he saw in the room, even between men who hadn't seen each other in decades. He points to that event as one of the reasons his company now chooses to offer military reunion sponsorships.
The rings offered for the giveaway can be customized according to the winner's preferences. MilitaryMilestones.com offers a choice of designs, finishes, stones and engravings. Winners can choose from many standard symbols and mottos, as well as write their own custom text on both the exterior and interior of the band. The rings offered for the giveaway are made of valadium and are valued at $160. However, winners may upgrade to silver or gold.
Military reunion organizers can choose to run the giveaway in any manner they like. MilitaryMilestones.com recommends awarding the ring at the reunion itself in order to encourage higher attendance. Suggestions include offering the ring as a door prize, or holding a live drawing at the event. Reunion promotional materials should announce the giveaway to boost sign-ups.
Reunion organizers wishing to run a giveaway at their event can contact Eric Sztanyo directly. Visit the MilitaryMilestones.com website for more information on sponsorships and for requirements for the giveaway.
About MilitaryMilestones.com: MilitaryMilestones.com offers high quality, custom military rings for every branch of the military: Army, Navy, Marines, Air Force and Coast Guard. They are a member of the Better Business Bureau and provide a secure shopping experience.