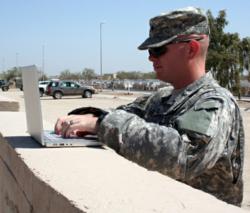 The response was humbling to say the least, and at the time moved me to tears. I still get choked up when I think about it.
(PRWEB) November 14, 2012
"Online communities-- especially faith-based ones-- are uniquely equipped to respond to soldiers on the brink of suicide," says followme.org.
That statement came today as the story emerged of a Kingsport, TN National Guardsman being saved from suicide by the members of a Facebook group, the Business Insider reported last week.
"I don't know where else to turn. I'm 100% certain that my friend is planning on killing himself tonight and I cannot get a hold of him or anyone that can get to him. Can you help me?"
When Dan, the administrator for the Facebook group, "Awesome S**t My Drill Sergeant Said," received that pressing message from one of his group's members last week, he knew he had to utilize his network of followers, according to a Business Insider report from November 4.
Though it was already 11:30 PM, Dan immediately began talking to the user, gathering information about why the man's friend was contemplating suicide. Then he mobilized his Facebook following by posting this status:
"TROOP IN TROUBLE: We just received a request for help from a troop that turned to us in desperation because it is the middle of the night and one in the chain of command is picking up the phone and he sincerely believes his battle [buddy] is planning to take his own life tonight."
With an hour, the message had been shared 200 times across the social network, according to the Business Insider. Fans offered prayers and direct support to the soldier, with some even driving to the general location of the troubled soldier.
"I had a flood of emails from a slice of America," Dan told Business Insider. "I had hackers, phone company reps, a retired hostage negotiator, psychologists, behavioral health specialists. Anybody and everybody emailing, saying here's what I do, let me know if I can do anything."
Eventually, the soldier responded to Dan's eager text messages: "I appreciate what you and everybody with your page are trying to do, but I've made my decision." However, Dan used the text message to gather the soldier's exact location.
In the meantime, Dan contacted the soldier's commanding officer, pleading, "Sir, I know this is going to sound a little weird," he told him, "but I'm from the internet and I'm here to help."
At roughly 5 AM, the soldier was located, alone, drinking in a small apartment, according to the Business Insider. After more than 1400 Facebook comments and hundreds of phone calls and texts, the soldier's commanding officer finally posted, "We picked him up. The soldier is safe."
An inspiring story, but what does it mean for non-profit organizations working to prevent suicide in the military?
Followme.org is a faith-based website that provides spiritual resources for combating suicide in the military, and its leaders argue that online communities represent a "largely-undiscovered tool" in the war on suicide.
"Soldiers battling suicidal thoughts are not alone--even in an increasingly disconnected world, there are hundreds of people-- military and civilian-- who want to come together to bring hope into someone's life. These online communities of soldiers and concerned civilians are equipped to really make a difference in soldier's lives. In a matter of five hours, one soldier turned from giving into death to choosing life," said Pastor Jamie of followme.org.
And the incredible impact of Dan's work is not lost on him. "The response was humbling to say the least, and at the time moved me to tears," Dan told Business Insider. "I still get choked up when I think about it."
For more information, visit http://www.followme.org. followme.org is a ministry of ShoutChurch.tv.