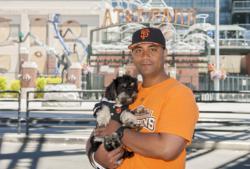 San Bruno, CA (PRWEB) June 26, 2013
Jarom Vahai, a 2011 California Veteran of the Year, has been nominated as a finalist to represent the San Francisco Giants in the "Tribute For Heroes" campaign held by PEOPLE Magazine and Major League Baseball (MLB).
As a Tribute For Heroes nominee and a Bay Area military veteran, Vahai was recently invited to a Giants game on June 17. As an honored guest, Vahai was invited to the MillerCoors box and saw the Giants go for 14 innings against the San Diego Padres. He is one of three finalists who will represent the San Francisco Giants in the 2013 MLB All-Star Game.
Vahai is an Iraq War Veteran who served in the U.S. Marine Corps from 1998-2011. Since completing his service, he founded Green Careers 4 Veterans (GC4Vets), which is dedicated to connecting veterans to jobs and training in green industries.
He has also continued to display his leadership and initiative in advocating for veteran affairs, both at the local and national level. He serves as a Veteran Advisory Committee Member to Congresswoman Jackie Speier and Chairman of San Mateo County Veterans Employment Commission. Vahai has also visited the White House several times to meet with President Obama to discuss the Veterans Employment Tax Credit, which the President signed into law after hearing from veterans like Vahai.
Vahai's work advocating for veterans extends beyond employment. He has also successfully lobbied at the California State Capitol in Sacramento to extend Veteran Priority Registration in California colleges and universities from two to four years. Recently, he was awarded the Navy Achievement Award for saving a man's life at SFO International Airport by performing CPR and using a defibrillator while the man was suffering from a heart attack.
For his military service, his heroism, and his work on behalf of veterans, Vahai has been nominated as one of 90 finalists in the "Tribute For Heroes" campaign sponsored by PEOPLE Magazine and MLB. Active or former members of the Armed Forces are nominated to represent their favorite MLB team at the 2013 All-Star Game. Three veterans per Club are nominated and winners will be announced on July 10. They will be included in All-Star Week festivities and recognized during the All-Star pre-game ceremony leading up to the 2013 All-Star Game at Citi Field on July 16th on FOX.
The "Tribute For Heroes" campaign supports Welcome Back Veterans, an initiative of Major League Baseball and the Robert R. McCormick Foundation, which addresses the needs of veterans after they return from service.
To vote for Jarom Vahai to represent the San Francisco Giants at the 2013 MLB All-Star Game, visit http://mlb.mlb.com/tribute/2013/index.jsp
About GC4Vets
GC4Vets was founded by Jarom Vahai in 2011 in an effort to connect and train Vets for jobs in the Green Industry. Founder Jarom Vahai acts as a bridge, a mediator, and communications conduit to bring together Veteran Organizations, Political Representatives, Corporate Executives, Media Outlets and Veterans (who have shared interests in the Green Careers Initiative). GC4Vets also proactively creates programs for veterans seeking jobs by working to train, hire, and establish Veteran businesses in the Green industry. For more information, visit http://gc4vets.com.