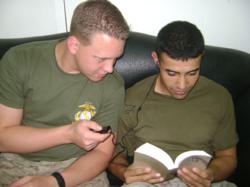 As long as there are troops in harm's way that are seeking the spiritual comfort found in God's Word, we will diligently work to provide it
Albuquerque, N.M. (PRWEB) April 03, 2012
In 2007, a handful of active duty chaplains and Marines who were using Faith Comes By Hearing's original BibleStick approached the ministry and asked if a special version could be developed for troops in deployed situations. The original is a bright white color and the power indicator did not meet military specifications for low-light discipline. The request resulted in the ministry developing the Military BibleStick. The first shipments of the digital audio players that contain the entire New Testament went out in 2008 and the ministry is proud to announce they have now provided more than 200,000 units to meet the requests of over 1,000 chaplains who distribute the Audio Bibles during pre-deployment briefings, counseling sessions, chapel services or upon direct request of the troops they serve.
"We could have never imagined the amazing outpouring of support we have gotten for this project from all across the country," says Faith Comes By Hearing Vice President Troy Carl.
Like many Americans, Carl – whose son is serving with the U.S. Army in South Korea – has a very personal connection with troops stationed overseas. "Anyone with a loved one serving far from home knows what it means to pray for their safety and well-being every day. With the BibleStick, you also have the comfort of knowing God's Word is available to speak to them wherever they may be."
The ministry continues to provide the Military BibleSticks free of charge to chaplains upon request. The cost has been covered by the generosity of donors from all over the nation. Many supporters have heard about the project through Christian radio and TV outreaches and incredibly, more than 5,000 U.S. churches have presented the project to their congregations and received offerings to provide America's brave men and women in uniform with God's Word in audio.
Faith Comes By Hearing remains committed to fulfilling requests from chaplains that continue to come into the ministry, as funds are available.
"As long as there are troops in harm's way that are seeking the spiritual comfort found in God's Word, we will diligently work to provide it," concludes Carl.
____________________________________________________
As Faith Comes By Hearing celebrates their 40th year in ministry throughout 2012, the ministry remains focused on providing God's Word in an audio format to every nation, tribe, village and tongue. They currently have Audio Scriptures in 632 languages that can be freely accessed on their website, via podcasts in their iTunes store, or on their free Bible app known as Bible.is.