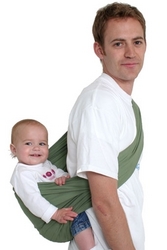 Giving away HugaMonkey baby slings to military families is my way of paying tribute to all the top guns that fly the skies, crawl the trenches, or sail the ocean to defend our freedom
Orem, UT (PRWEB) July 3, 2008
With Independence Day just a few days away, baby slings company HugaMonkey is honoring the moms and dads who serve in the military. Each month HugaMonkey will randomly select ten military families who will get a free baby sling.
Anyone who has a military email address can enter the drawing at HugaMonkey's web site at: http://www.hugamonkey.com/military-monkeys. On the first Monday of each month ten people will be emailed a code that is redeemable for a free baby sling on the web site. Families can also upload pictures of their military monkeys that will be displayed on the site.
How Military Monkeys was Born
Co-founders Clint Eagar and Dylan Higginbotham always intended to use HugaMonkey as a way to enrich other people's lives. The idea to give to others was always appealing to them but they planned to wait until they reached a certain level of success first.
After Eagar read the book Rich Dad Poor Dad by Robert T. Kiyosaki he was inspired to start giving right away. "Even when you're building a business you can give back - as much as 30% of what you earn. We started thinking of ways HugaMonkey could contribute. We decided to show support for families who serve in the military by giving them free baby slings," said Eagar, CMH (Chief Monkey Hugger) of Hugamonkey.
With five kids of his own, Eager knows about raising children. When he was a child he dreamt of becoming a fighter pilot in the Air Force. While living in Las Vegas, Nevada, near Nellis Air Force Base, he loved lying on his trampoline to watch the F-16 Thunderbirds practice their drills. Then when he was 9 years old he was in an accident and lost all vision in his right eye. He had to give up his hopes of becoming a pilot.
So even though Eagar wasn't in the military, he wants to show his respect for those who are. "Giving away HugaMonkey baby slings to military families is my way of paying tribute to all the top guns that fly the skies, crawl the trenches, or sail the ocean to defend our freedom," said Eagar.
About HugaMonkey:
HugaMonkey manufactures and sells top notch baby slings. Growing as quickly as your little monkeys, HugaMonkey sells a lot of baby slings. The baby slings come in many fabrics and patterns, including an organic cotton and bamboo line. HugaMonkey baby slings are made in the USA.
Family owned and operated, Hugamonkey has four employees who all have monkeys of their own. Giving free baby slings for dads and moms in the military is HugaMonkey's way to honor the men and women who defend our freedom and protect our nation's families.
###