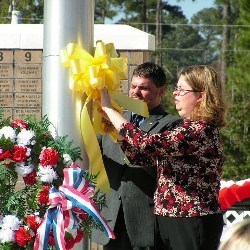 Our military families are making the ultimate sacrifice for our freedom and we wanted to do something to help
Hattiesburg, MS (PRWEB) March 7, 2008
HomesickGI.com unveils a unique and safe way to bring HOME to our soldiers at a Yellow Ribbon Tying Ceremony in Laurel, MS. "Our military families are making the ultimate sacrifice for our freedom and we wanted to do something to help," said Founder and President John G. Ellis. HomesickGI helps lessen the burden of that sacrifice in a Worry Free Environment by taking "mail-call" to a whole new level.
Developed by a US Marine, HomesickGI.com is a new community for the military, their family, and friends. Members can create albums with Videos, Photos, and Music so their loved ones won't have to miss another child's birthday, holiday, or any other special day while they are away from home. How exciting for a soldier to come in from the field, log on to http://www.HomesickGI.com, and see their son's t-ball game or have a special anniversary video card waiting from their spouse. The possibilities are endless and defined only by the creativity and imagination of our military families. Albums can be private, for just the immediate family, or the couple, and other albums can be public for sharing with those in your friend's network. You choose whom you share with and how you share. Best of all, the frequent visual communication families create with HomesickGI will help to reduce Post-Traumatic Stress Disorder and Separation Anxiety.
There are many tools on the Internet for individuals to get in touch, and stay in touch, with anyone anywhere. However, there has not been a family friendly comprehensive community site for our soldiers and their families until now. With the Department of Defense putting restrictions on, and blocking access to, other social networking sites, the time is right for HomesickGI.
Join Today and change the life of your military family, or someone else's family, forever. "My husband was killed in Iraq before he got to see his newborn niece take her first steps. With this site he would have been able to have his wish to see her walk. Thank you HomesickGI for finally creating a place where other soldiers can have their wishes come true," said Leah Freeman at the HomesickGI Yellow Ribbon Tying Ceremony.
HomesickGI, Inc is a privately held company in Mississippi developed by a former IT Executive and US Marine. Homesickgi.com was created specifically to fill a very real need in our military community today. HomesickGI would like to thank its supporters Sean Hannity, the office of Senator Trent Lott, American Family Radio and The Rick and Bubba Show. Copyright © 2007-2008 HomesickGI ~ All Rights Reserved
Contact:
John G. Ellis, USMC MCP
john(at)homesickgi.com
HomesickGI, Inc.
http://www.HomesickGI.com
###