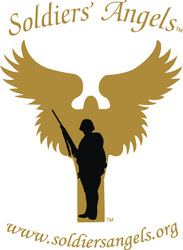 Pasadena, CA (PRWEB) September 17, 2008
Soldiers' Angels, the nation's largest volunteer-led non-profit military support organization, announced today its acceptance from ChristmasCardsDirect of a donation of 180,000 blank holiday cards, which will be delivered to all of the military men and women stationed in Iraq and Afghanistan to write home to their family and friends.
The blank holiday cards donation consists of a single design with a Season's Greetings theme, making it appropriate for the religiously diverse range of soldiers who are serving our country overseas.
ChristmasCardsDirect's holiday cards donation will be delivered to the deployed military personnel along with holiday care packages, coordinated by the Soldiers' Angels Wrapped in Holiday Spirit program. Each care package will also contain a personalized imprinted holiday card recently donated to Soldiers' Angels by GalleryCollection.com.
ChristmasCardsDirect is an eCommerce retailer of personalized holiday cards and digital photo Christmas cards. This is the company's first time contributing to the military support efforts of Soldiers' Angels.
For more information about ChristmasCardsDirect, please visit: http://www.christmascardsdirect.com.
For more information about Soldiers' Angels and the organizations 23 teams and programs that provide relief and support to members of the U.S. military, please visit: http://www.soldiersangels.org.
About Soldiers' Angels -- Soldiers' Angels is a volunteer-based 501(c)(3) non-profit organization with the mission of providing aid and comfort to the men and women of the United States Army, Marines, Navy, Air Force and Coast Guard and their families. For more information, call 626-529-5114.
# # #