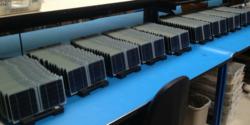 I bought this for my son to take to Afghanistan
San Jose, CA (PRWEB) January 03, 2012
Soldiers being deployed to Afghanistan who depend on their handheld devices to survive in a hostile environment have purchased the Suntactics sCharger-5 at their own expense. Dean Sala, Suntactics CEO, said one customer even stated, "I bought this for my son to take to Afghanistan". It Suntactics solar charger is the perfect tool for the needs of military personnel and its made in the USA by a veteran owned manufacturer.
Power and energy are essential weapons of war. Troops deploy with more electronic gear than ever all of which have to be constantly charged. A recent article in National Defense stated "Unburdening troops from heavy loads is an important element of the military's strategy to prepare for future wars. The Defense Department has spent at least $2.1 billion on power sources between 2006 and 2010, according to the Government Accountability Office. That investment so far has not resulted in significantly more efficient and lighter batteries for soldiers. The best chance for a breakthrough right now lies with solar power".
"There is now an opportunity for the military to utilize rugged and reliable solar chargers from the commercial marketplace that have demonstrated performance in harsh environments," stated Dean Sala, Suntactics CEO. But if it used by soldiers in Afghanistan, the charger must have durability, ease to use, be compact and lightweight. And it should also be powerful enough to enable the remote USB device to remain operational under a wide variety of remote conditions. "Soldiers need what Suntactics already provides to the commercial marketplace".
Soldiers depend on their USB handheld devices and they use apps on their smartphones or tablets for a multitude of military operational needs. The number of apps is expanding at a rapid rate and these apps are very power hungry. The sCharger-5 solar charger will charge the iPhone(3, 4, and 4S) or Android while also supplying enough power to actually run all these apps at the same time it is increasing the battery charge.
Many outdoor customers purchase the sCharger-5 for charging many other types of USB devices as well including iPods, Kindle and other readers, AA/AAA batteries, USB backup batteries, blue tooth headsets, even the iPad. The "made in the USA" sCharger-5 is the perfect solution for the remote device solar charging needs of our military personnel.
About Suntactics
Suntactics focuses on portable solar and off grid solar energy products. Their current product is a unique 5-watt handheld USB solar charger called the sCharger-5. This compact high power and durable solar power supply is being used by customers for a wide range of portable devices. Its simplicity in design makes it hassle-free and easy to use, just plug in your device and it starts charging instantly. The units are manufactured locally at Fastrak, a veteran owned contract manufacturer. Suntactics is located in San Jose, CA.
# # #