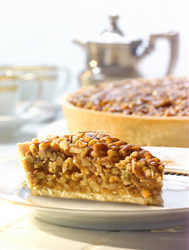 What is important here is that lots of folks talk about caring, but Ken Bain shows that he cares by making this financial sacrifice.
Greenville, TX (PRWEB) October 27, 2009
Famous for their 165-year-old Pecan Cake recipe and recipient of numerous awards, Mary of Puddin Hill is reaching out to United States military by offering free shipping to APO/FPO addresses and partnering with a group from Fort Hood to raise funds.
Mary of Puddin Hill - Handmade care, Finest ingredients, Priceless taste
Mary McDonald of Austin, TX was thrilled to receive the Mary of Puddin Hill catalog for the first time this year. She noticed the "free shipping" spotlight on the cover, but was even more excited when she saw the vast selection of sweets and gourmet foods. McDonald ordered her brother's favorite dessert, Puddin Hill's version of the pecan pie. "I sent him the Praline Pecan Pie Minis, so he can eat one at a time or share with his friends." Mike Schmank is not serving in the military, but he serves the country as a contractor for The Boeing Company. Schmank flies a surveillance drone over military targets in Iraq. McDonald thinks it is a wonderful thing to provide a way for friends and families to honor the military in a way that will bring them a taste of home. She added, "I will definitely order from Mary of Puddin Hill again! They have such a great selection."
Featured on the Dr. Phil show as his favorite dessert in 2003 and winner of the Monde Selection Gold Metal Award for Excellence, the Praline Pecan Pie is always a family favorite!
Owner of Mary of Puddin Hill, Ken Bain, served in the armed forces from 1966-1972. He has several friends and relatives overseas during this holiday season. "I know what it's like to be away on duty and the comfort that comes from having something sent from home," he said. "Especially during this time of year when they're away from home, we need to let them know we appreciate them and what they are doing…. serving our country."
Bain offered a fundraiser to military groups this month, and one group jumped at the chance to partner with the company. Casey Andrysiak, wife of Lieutenant Colonel Peter Andrysiak of the 20th Engineer Battalion, 36th Engineer Brigade of the US Army thought it would be a terrific opportunity since she and her husband have been customers of Mary of Puddin Hill for five years after they received a Puddin Hill item as a gift. "Ken Bain actually mentioned it for another group and Casey asked if we could extend it to the 20th engineer battalion," said the colonel. "What is important here is that lots of folks talk about caring, but Ken Bain shows that he cares by making this financial sacrifice." A portion of sales by individuals with a special keycode will go directly to the battalion. The fundraiser goal is $10,000 and will benefit the Family Readiness Group which is a volunteer group within the battalion that provides and sponsors holiday events, spouse events, and events for children of approximately 1200 soldiers. The 20th Engineer Battalion is a combat battalion that provides Exploded Ordnance Disposal Team Escort/Security, Reconnaissance Patrols, Quick Reaction Force, and Force Protection and Security. In addition to these critical missions, elements of the 20th Engineer Battalion manage and build major utility and infrastructure projects. For example, one of the first construction tasks in Iraq was repairing a bridge destroyed by terrorists. See 20th Engineer Battalion for more info.
Kim Cooper, five-season employee for Mary of Puddin Hill, appreciates the support as her son, Nick Cooper, serves as military intelligence in Kuwait. "It makes me proud to know the company I work for supports the troops," she said. "I think it's awesome to give them any sense of comfort and home to let them know we respect and appreciate their sacrifice."
For more information about Mary of Puddin Hill, free shipping, and their fundraiser program please call 903-455-2651 or visit their website at Mary of Puddin Hill.
In 1948, Mary Horton of Puddin Hill's great granddaughter, Mary Horton Lauderdale, and her husband Sam were students at the University of Texas. Mary was a home economics graduate and Sam was a G.I. Bill chemical engineering student. "The G.I. Bill allowed us $90 a month and we were hungrier than that", recalls Mary. At Christmas, Mary gave a fruitcake baked from the heirloom recipe to her home economics professor, who said, "If you ever need any extra money, this cake will sell.". The next Christmas, Mary and Sam started making fruit cakes in their tiny apartment. Mary's parents loaned the money to buy the fruit, and friends helped prepare the cakes. Five hundred pounds of fruitcake later, they realized that they might be on to something. Sam and Mary decided to return to Mary's hometown of Greenville and give the business several years of all-out effort. They converted the laundry room at Mary's parents' home into a small bakery and went to work. The business grew and, several years later, they were able to purchase a few acres of the Puddin Hill farm to build a new facility.
The Puddin Hill Store was added in 1975. The factory and store are located on Interstate 30 in Greenville and attract many travelers, buses, plus tour groups. There are tempting samples of many Puddin Hill products, and visitors are urged to try them all. The store also carries gourmet foods, one of-a-kind gift packages, cookbooks and a wide variety of candies. Other highlights include a dollhouse built of 300 pounds of white chocolate and a carousel with chocolate ponies, creations of chocolate artist, Roberta Gustafson.
Puddin Hill has a strong tradition of quality, a rich heritage and wonderful customers.
###