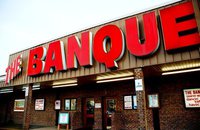 I wasn't expecting to have as much fun and can't wait to do it again!
Norfolk, VA (PRWEB) October 12, 2012
Military Appreciation Night at The Banque gets a boost with a sponsored giveaway provided by Norfolk military loans specialist, Exchange USA. The popular event draws a regular crowd to the only Country Western Bar in Hampton Roads that caters to military clientele.
Kaila Hector, Exchange USA, Retail Stores Director hails arrangement as great fit for all involved. "The customer's at The Banque are dedicated to military appreciation night and we are proud to be able to give back to those who provide so much to all of us. Besides, I wasn't expecting to have as much fun and can't wait to do it again!"
In a venue that's been established since 1973, The Banque's Military Appreciation Night has been a community institution for over 3O years- with no plans for retirement. It was a natural fit for The Banque and Exchange USA to provide an even stronger sense of community for local military personnel. The Military Appreciation Giveaway will run at least through the end of the year and includes the Halloween Night Giveaway with a new 32" HDTV as Grand Prize.
Just under 100 Banque patrons entered the drawing for the evenings giveaway and the odds were pretty fair for a chance of winning the new Apple iPod. Loree Johnsrud was the lucky recipient and went home happy with her new toy. The iPod is one of the many exciting products offered by Exchange USA. In addition to consumer electronics Exchange USA carries Furniture, Appliances, Rim/Tires, Gas Scooters, Computers, Televisions and more. In addition Exchange USA Military Travel Services provides military travel loan financing for active and retired US Military, their family, dependents and friends.
About the Companies:
Eatin' Dancin' & Havin' Fun! The Banque is an Award Winning Country Western Restaurant & Nightclub serving Hampton Roads since 1973. A local favorite, The Banque has been hosting Military Appreciation Night on Wednesdays for more than 3 decades. Located at 1849 E Little Creek Road, Norfolk, VA 23518, the Banque can be reached at 757-480-3600 or through their website http://www.thebanque.com
Exchange USA is based in the newly revamped East Beach Shopping Center at the corner of Shore Drive and East Little Creek Road. Offering consumer and military financing on lifestyle products and travel, Exchange USA was founded in 2009 and is has quickly become a local market leader. They are located at 4039 E Little Creek Rd and can be reached at 757-695-3388 or through their website at http://www.myexchangestore.com