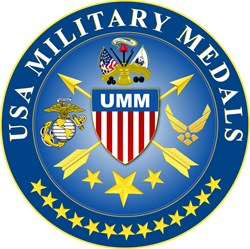 The fact that in this mobile world, there should be a fast, efficient method of conveying that story to the people that care about that veteran
Portland, OR (PRWEB) October 09, 2012
Military uniform superstore, USA Military Medals, today, launched a new Facebook application via its ecommerce stores called "Rack StampTM," allowing military personnel and veterans to share their military awards online via the popular social networking site.
The Rack StampTM app utilizes UMM's popular EzRackBuilderTM – an online software program allowing users to build and purchase their military ribbon and medal award racks for wear on their dress uniforms. A military ribbon or medal "rack" is military slang for the colorful rows of awards typically found above the wearer's left pocket on U.S. armed forces dress uniforms.
The new patent-pending Rack StampTM app, now featured in the EzRackBuilderTM program, gives those current military and veteran users an additional medium for showing off their awards. Veterans and military personnel using the program can now simply push a button and "stamp" a perfect graphical image of their rack to their Facebook page. It's an effort to let military veterans share their history.
"Our concept was embracing the idea that veterans are special, and, for most veterans, their ribbon or medal rack is a highly personal and concise record of their service," said Jared Zabaldo, USA Military Medals, President of Business Operations.
"That idea and the fact that in this mobile world, there should be a fast, efficient method of conveying that story to the people that care about that veteran – but who may not fully understand what they've been involved with as a member of the military – was the inspiration," said Zabaldo.
In addition to the graphic image stamped to the Facebook page, by simply clicking on links provided by the application's posting, "friends" can instantly glean detailed information about a service-member's individual awards. In fact, each link takes the friend to a landing paging dedicated to each specific ribbon or medal on that rack – outlining the full criteria and history required to earn each one.
Following these dedicated links give the layperson a deeper understanding of the veteran's timeline and many of the things they've experienced and accomplished.
"Of course no Facebook application can ever fully detail what makes a military veteran who he or she is and relate the full of experience of having served," said Zabaldo.
But with literally a few clicks of the button, a service member's loved ones can get a little peak into what these veterans have been doing for their country. And you can perhaps understand a little bit about what makes those individuals so special," said Zabaldo.
Rack StampTM is available through the Facebook App Center or directly through UMM on their EzRackBuilder.