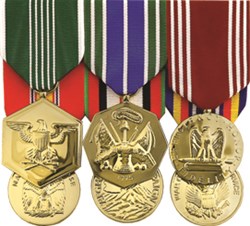 USA Military Medals assembles all military medal and ribbon racks on-site ensuring that they can meet the 24 hour shipping timeline.
Portland, OR (PRWEB) September 06, 2012
USA Military Medals, one of the nation's largest suppliers of military medals and uniform accessories, is adding staff to their production, shipping, and customer service departments in order to keep up with increased demand entering military ball season. Beginning in mid-September and lasting through December, the military ball and promotion season typically sees substantial increases in the volume of orders. Due to increased market share and positive word-of-mouth advertising, USA Military Medals anticipates fulfilling a larger volume of orders over the next four months than at any time in the company's history.
The process of ordering a rack of military medals or military ribbons can be cumbersome and the regulations that govern the wear of military awards can be confusing. To ensure that orders can be placed quickly and correctly USA Military Medals has increased their customer service department by forty percent. From 6:30 a.m. to 5 p.m. Pacific Standard Time live representatives are available over the phone and via web chat to help customers through the order process and answer any questions regarding military regulations and the correct wear of military medals. For customers who prefer to place orders on their own, USA Military Medals offers an online rack builder that automatically assembles medal and ribbon racks in correct order of precedence and allows the customer to view their rack before placing an order.
Large staffing increases have also been made to the production and shipping departments. USA Military Medals was the first military awards company in the nation to guarantee that all orders ship within twenty four business hours. In order to keep this promise the company staffs more than thirty shipping and production personnel. USA Military Medals assembles all military medal and ribbon racks on-site ensuring that they can meet the 24 hour shipping timeline. With a variety of domestic and international shipping options to choose from the company can make certain that customers receive their orders when and where they need them.
The military ball season begins in earnest the final two weeks of September when military personnel start assembling their dress uniforms and updating their military medals. For USA Military Medals the increase in sales will not end with the final military ball. The company anticipates the volume of orders to stay high through December when many military servicemen and women attend their promotion boards and must have their current and correct military awards displayed on their uniform. USA Military Medals is confident that the recent staff additions have put them in position to fulfill the increased volume of orders and to continue their history of providing customers with fast shipping, accurate orders, and live customer service.