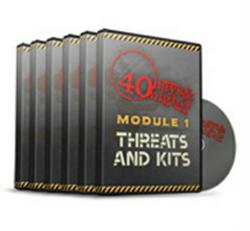 A few steps in the right direction are all it takes to start preparing for any situation, and "40 Days and 40 Nights" guides the rest of the way.
Austin, TX (PRWEB) May 19, 2012
Military survival techniques aren't just for service men and women, said today's Absolute Rights online article. The same tactics and strategies can be applied to anyone with any experience level, and help them address their preparations for an emergency situation. Taking a military-like approach to survival tactics will force critical thinking and situational awareness that can't be learned overnight, but the article said will lead to total readiness.
To help teach techniques that have been proven to be effective in battling disaster effects, Absolute Rights is providing a training course in emergency response preparedness. "40 Days and 40 Nights" is the online-based subscription program that is sharing the most valued and compelling information on surviving disasters, the article said.
Members of "40 Days and 40 Nights" are joining an exclusive community being formed by the training course. Likeminded people are coming together in their survival efforts to create an association of prepared individuals and families who can rely on themselves in times of crisis, instead of the uncertain support of first response organizations.
The article said search and rescue teams, police and firefighters, and even federal agencies like FEMA are not always trustworthy or dependable. If they aren't around, it's up to each individual to know and understand what they need to do to protect themselves from the dangers of disasters.
That's the thought behind "40 Days and 40 Nights," said the article. Absolute Rights shares the sentiment that disaster preparedness is the best defense, and the only real way to survive a catastrophe. The work that's done beforehand makes the period afterwards much safer and less complicated, the article said.
Once a person joins the course, they will have access to the multitude of training sessions and resources, all located on "40 Days and 40 Nights'" home base website. There they will also find downloadable family emergency plans and identification wallet cards, which can help ease the disaster experience and recovery process.
Absolute Rights informs patriotic Americans on their given rights, plus helps protect those rights from government intrusion. Most importantly, it prides itself on alerting people when their rights are being threatened, creating an active and informed community. For more information, be sure to visit AbsoluteRights.com.
A few steps in the right direction are all it takes to start preparing for any situation, and the article said "40 Days and 40 Nights" guides the rest of the way. Members won't have to worry about the preservation of their safety, wealth, or identity after a disaster strikes. They will have learned the military survival techniques and preparation measures necessary to stay alive in any scenario, and stay prepared for as long as it takes.