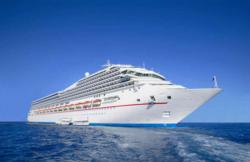 "I would like to thank you all very much for your help and patience with me during this process. I'm SUPER EXCITED about our trip home for the holidays. ALL SMILES!!! Special Thanks to Kaila H. you were AWESOME
Noroflk, VA (PRWEB) November 21, 2012
What's better than extra savings on popular cruise travel destinations right in time for the holidays? Exchange USA Military Travel Services announces two Military Cruise Travel Packages: Royal Caribbean Alaska and Carnival Caribbean. In addition, military travel loan clients will have access to packages including flights and hotels for both destinations through the end of the 2012
Learn the true meaning of beach life! Visit the tropical islands of the Eastern Caribbean. With some of the most beautiful islands in the world, no one knows the Caribbean like Carnival. From world class sunbathing, scuba and duty free shopping on St. Thomas, to the amazing charm and history of Puerto Rico. Exchange USA Military Travel Services has made it easier than ever to tour the Caribbean the right way. Save money with holiday cruise packages and enjoy a beautiful Ocean view Stateroom with excellent views and sneak peeks of each destination!
Not looking for the tropical get away? Feel like doing something out of the ordinary? The Exchange USA Expert Travel Team can help secure a Royal Caribbean Cruise package to Alaska! A 7 day, 4 port cruise, Royal Caribbean Alaska Cruise visits some of the most breathtaking ports of call and cities. See legendary places, cruise by glaciers and several natural wonders to experience the outdoors. In addition to the shipboard luxury, military travel customers have options to see the Dead Horse Trail, the White Pass Railroad, Climb the Summit, and go through the US/Canada border before heading back! Get a refreshing balance of excitement and relaxation when vacationing on Royal Caribbean Alaska Cruise Lines.
Exchange USA Customers aren't shy about touting the high levels of service they receive when looking for military travel loans and vacation accommodations. W. Cure of Japan recently stated "I would like to thank you all very much for your help and patience with me during this process. I'm SUPER EXCITED about our trip home for the holidays. ALL SMILES!!! Special Thanks to Kaila H. you were AWESOME."
Exchange USA Military Travel Services are experts in military cruises, discounted military flight loans and emergency travel accommodations. The Expert Travel Team can book all military flight and vacation needs. The Travel Assistance Program helps reduce out of pocket expenses for Active Duty and Career Retied US Military. In addition, Exchange USA Military Travel specialists will be available to help service members internationally with their travel needs on Thanksgiving Eve, Thanksgiving, Christmas Eve, Christmas, New Years Eve, and New Years Day.
About the Company:
Established in 2009 and based in Norfolk, VA, Exchange USA Military Travel Services provides exceptional travel planning services to US active duty and career retired.The company also provides secured travel loan processing for US Government Civil Service and US Postal workers. Worldwide capability allows travelers service all over the earth; providing travel solutions regardless of duty station. The company can be reached by phone, 888 998 9963 or web at http://www.mymilitarytravel.com