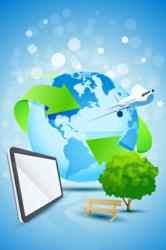 Most importantly, the customer wins by having a dramatically reduced timeframe from start to finish
Norfolk, VA (PRWEB) October 09, 2012
Green is Good- both for trees and for your free time. Exchange USA Military Travel Services has converted all application and military loans procedures to a completely paperless loan and booking process. The reduction in paper assists the environment and more importantly, accelerates US Military Service Members travel planning with faster information access.
By investing in efficient technology, Exchange USA Military Travel Services expedites discounted military travel loans by providing faster processing on both ends of the travel equation. The Networked Paperless Software solution, the in-house secure server, and the scanning and e-fax devices provide the foundation for the most efficient military travel booking system available. Just as important is the on-line back-up capability that protects customer data and provides a failsafe security data vault.
The company wins as the costs for paper purchases and customer data storage are both cut in notable fashion. The customer service staff wins because they are no longer running back and forth from their desks to the banks of cabinets to pull a paper file. They now access all customer data from the comfort of their workstation and can see each of the documents simultaneously on-screen instead of having to page through individual sheets in a file folder. Most importantly, the customer wins by having a dramatically reduced timeframe from start to finish.
Wouldn't you be happy if a process that used to take hours or even days was reduced to minutes? Exchange USA agrees and Active Duly and Career Retired US Military Service men and women applying for military travel loans can now have the paperless advantage. Location doesn't matter; travel requests can be managed from around the world, regardless of duty station. Many requests arrive for travel to or from Hawaii and Alaska, or from military bases in Germany, Japan and Korea- to name just a few.
Travel reservations and booking has become paperless across the industry, it was only a matter of time before military travel loan processing followed the same route. Exchange USA Military Travel Services leads the way and provides remarkable speed and efficiency in the military travel planning process.
Established in 2009 and based in Norfolk, VA, Exchange USA Military Travel Services provides exceptional travel planning services to US active duty and career retired. Exchange USA Military Travel Services also provides secured travel loan processing for US Government Civil Service and US Postal workers. Worldwide capability allows travelers service all over the earth; providing military travel solutions regardless of duty station. The company can be reached by phone: 888 998 9963, email fly@mymilitarytravel.com or via the web at http://www.mymilitarytravel.com