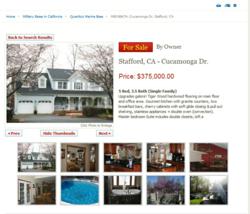 As a direct result of the valuable feedback we receive from our customers, we are pleased to announce that we have incorporated their suggestions into the way photos of homes are viewed on our website, explained David Gran, President
Stafford, VA (PRWEB) September 28, 2011
MilitaryByOwner Advertising, Inc., a national leader of online real estate advertising to the military community, announced today that they have enhanced the photo feature in their home advertising packages.
"As a direct result of the valuable feedback we receive from our customers, we are pleased to announce that we have incorporated many of their suggestions into the functionality of the way photos of homes are viewed on our website, explained David Gran, President of MilitaryByOwner.com. "We strive to make our site as user friendly as possible, so when our customers take the time to let us know what they would like to see, we carefully consider those requests."
The new format integrates thumbnail photos into the main display area, allowing the user to view all of the uploaded photos at the same time. Clicking on a thumbnail will highlight that photo into the main display area. Users can also view an enlarged version of the photos simply by clicking directly on the photo or choose to hide the thumbnail photos entirely.
"It has been our experience over the last 11 years, that including photos of the homes advertised with us, has a considerable impact on how often the ad is viewed. If our customers provide quality photos of their home, we certainly want to make sure that those searching for homes near military installations are able to view those photos in the best light", explains David. "MilitaryByOwner strives to provide superior customer service by being available for questions through live chat online, email and daytime office hours, and it is through this commitment that we are able to continuously enhance the features on our site".
MilitaryByOwner Advertising, Inc. has experienced consistent growth each year since 2000. In September 2010 & 2011, MilitaryByOwner Advertising, Inc. was included in the prestigious Inc. 5000 list, a compendium of the most entrepreneurial and fastest-growing private companies in America.
MilitaryByOwner Advertising, Inc. was founded by David and Sharon Gran in 2000. At that time David was active duty in the USMC, he and his family were moving from Germany to the states and recognized a need for assisting relocating military families.
The website provides a great resource for relocating military families to advertise their homes, for sale or for rent, located near a US military base, in addition to finding housing at their next duty station. With a staff that is primarily comprised of military spouses or dependents, they can relate to the joy and stress of a military move.
MilitaryByOwner's customer service staff is available through live chat Monday-Friday 9am-9pm EST,email or office 9am-5pm EST at 866 604 9126.
###