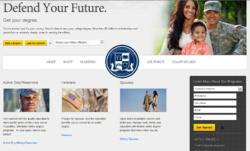 Kansas City, MO (PRWEB) September 26, 2012
Grantham University, a 61-year-old university with a history of meeting the educational needs of service members and veterans, has launched a new informational Web site that is accessible to any service member, veteran and military spouse who is interested in learning more about pursuing a college education.
Located at http://www.grantham.edu/military, the first phase of this Web site is just the latest development by Grantham specifically designed to help this population navigate military benefits, select a degree program, learn more about online education and read about the tuition options and scholarships available at Grantham. The second phase of the site will contain information about mobile testing unit locations, military events, and tips for maximizing transfer credit for military training.
"We understand the unique challenges associated with pursuing a college degree for our nation's service members, veterans and military spouses," said Grantham president, Joseph McGrath. "Because of this, and our firm belief in the power of education, this Web site is a valuable resource for anyone in these groups considering an education regardless of where they choose to attend school."
Earlier this year, Grantham was named one of the "Top Military-Friendly Universities" by Military Advanced Education magazine for the fifth consecutive year. Grantham's history of service to the military began in 1951, when World War II veteran, Donald Grantham, founded the University to provide continuing education opportunities to veterans returning home from war. Over the last six decades, the University has expanded its degree program offerings, student support structure, and military scholarship opportunities to better meet the educational needs of those who serve.
For more information about Grantham University and its degree programs, visit http://www.grantham.edu or call 800-955-2527.
About Grantham University:
Established in 1951, Grantham University is a private institution that specializes in online education for the working adult student. Its mission is to provide accessible, affordable, professionally relevant online degrees in a continuously changing global society. Grantham University's online undergraduate and graduate degree programs include: Accounting, Business Administration, Criminal Justice, Computer Science, Engineering Technology, Allied Health, Information Technology, Medical Coding and Billing, Nursing, Human Resource Management and Business Intelligence. Grantham University offers a military scholarship program for active duty, reserve, guard, veterans and military family members, as well as scholarships for law enforcement professionals. Grantham's courses are 100 percent online, allowing students to study at home, at work, on Temporary Duty (TDY) or from almost anywhere in the world. Accredited since 1961 by the Accrediting Commission of the Distance Education and Training Council, Grantham University has compiled a distinguished record as a respected and accredited distance learning university spanning six decades of service to education.
###