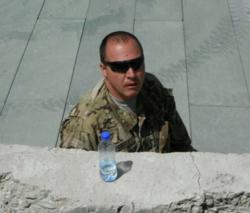 Grantham's approach to distance learning is the best I have experienced.
Kansas City, Mo. (PRWEB) December 28, 2011
Grantham University, a 60-year-old institution delivering accredited online degrees to working adult students around the world, has awarded $2,000.00 in scholarships through the Imagine America Foundation's (IAF) Military Award Program which offers military scholarships for service members and veterans. Chad Cagle of Killeen, TX, and Paul Burgess of Prince George, VA, will each receive $1,000.00 scholarships to be applied toward classes at Grantham University.
To qualify for the scholarship, applicants must be an active duty, reservist, honorably discharged or retired veteran of a United States military service branch and submit an essay on the topic, "Why should you receive a Grantham University IAF Military Award Program scholarship?"
"We are thrilled to award Paul and Chad these scholarships," said Lindsey Leesmann, communications coordinator at Grantham University and chair of the University's IAF Scholarship Committee. "They have both served their country admirably, and it's an honor to give back to those who have given so much and to continue Grantham's tradition of serving those who serve."
Chad Cagle first learned about Grantham University while on his fourth deployment, this time to Afghanistan.
"Part of my initial reluctance about furthering my education was the schools I had been introduced to didn't understand the life of today's military, but Grantham does," Cagle said. "Grantham's approach to distance learning is the best I have experienced."
He plans to continue the success of his first semester and maintain at least a 3.5 GPA throughout his Multidisciplinary Studies degree program.
As a retired member of the Army, Paul Burgess' civilian career had him traveling frequently about the country, so taking classes at a traditional campus was out of the question. When he learned about Grantham's online learning format, he knew he found the school for him.
"I can work on my studies any time, day or night without feeling worn out at work the next day," Burgess said. "Not having to drive long distances to class is great."
He currently has six courses remaining in his Associate of Arts Multidisciplinary Studies. Once that's complete, he plans to continue on with his bachelor's degree.
Over the last five years, Grantham has awarded $41,000 in IAF military scholarships to qualified active duty service members, reservists, guardsmen and veterans through the Imagine America Foundation's Military Award Program.
Grantham University's accredited online degree programs are flexible and portable, allowing students to fit education into their life instead of arranging life around their education. The University offers a variety of certificates of learning, associate, bachelor and master's online degree programs in areas such as Business Administration, Business Intelligence, Computer Science, Criminal Justice, Engineering Technology, Health Sciences, Human Resource Management, Information Systems Security and Medical Coding and Billing.
For more information about Grantham University and its degree programs, visit: http://www.grantham.edu or call 800-955-2527.
About Grantham University:
Established in 1951, Grantham University is a private institution that specializes in online education for the working adult student. Its mission is to provide accessible, affordable, professionally relevant degree programs in a continuously changing global society. The University prepares graduates for careers in business, engineering technology, computer science, criminal justice, healthcare, nursing, information technology and other professional fields. Grantham University offers a military scholarship program for active duty, reserve, guard, veterans and military family members, as well as scholarships for law enforcement professionals. Grantham's courses are 100% online, allowing students to study at home, at work, on Temporary Duty (TDY) or from almost anywhere in the world. Accredited since 1961 by the Accrediting Commission of the Distance Education and Training Council, Grantham University has compiled a distinguished record as a respected and accredited distance learning university spanning six decades of service to education.
# # #