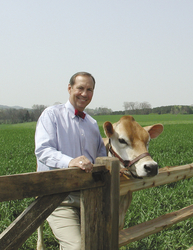 Now, when people see the yellow jug, they know that their Mayfield milk is going to taste great from the first glass to the last
Athens, Tenn. (Vocus) March 27, 2010
As Mayfield Dairy celebrates its 100th year of operation, many Mayfield Milk-lovers credit consistently fresh taste for the company's prolonged success. But what those milk enthusiasts may not know is that the signature flavor that has made Mayfield the region's number one milk brand is the result of years of industry-leading innovation.
"It's something most people probably don't think about when they're enjoying a glass of Mayfield milk,'' said Mayfield President, Scottie Mayfield. ''But there's a story behind what makes our milk taste so great."
That story traces its beginning to the 1955 International Dairy Show, where a revolutionary new piece of equipment was introduced that would change the course of the family-owned company. Then called a Vacreator, the machine used a patented vacuum process to remove unwanted flavors from milk, for a more uniform flavor.
Scottie's father, C. Scott Mayfield and his brother Thomas B. Mayfield III purchased the Vacreator, making Mayfield the first dairy in America to use one. Now known as AroVac, the machine is still used at Mayfield, today.
''In East Tennessee, green onions are often consumed by cows, especially in the springtime,'' Mr. Mayfield said. ''So, as a result, before the AroVac, milk sales would decline in the spring, because it would take on some of that undesirable onion flavor.
''But with the AroVac,'' he added, ''You don't get those outside factors affecting the flavor of the milk. So each gallon of Mayfield milk, year round, tastes great, every time.''
However, years later, it was another innovative idea that would become one of the most recognizable icons of the Mayfield brand -- the famous yellow jug.
First introduced in 1983, the Mayfield yellow jug was designed to do more than stand out on the shelf. It also blocks out and reflects light that can be harmful to milk.
''One of the biggest factors that can affect the taste of milk is exposure to light,'' Mr. Mayfield said. ''Whenever milk comes in contact with sunlight or even fluorescent light like in a grocery store, it's going to affect the flavor.''
Studies also show that exposure to light can adversely affect the nutritional value of milk, including loss of Vitamin A, Riboflavin and Vitamin C.
"Now, when people see the yellow jug, they know that their Mayfield milk is going to taste great from the first glass to the last," Mr. Mayfield said. ''Plus you're not losing any of the vitamins and minerals.''
About Mayfield Dairy Farms
Founded in 1910, Mayfield Dairy Farms offers a full line of milk, cultured and ice cream products. Based in Athens, TN, the dairy serves nine Southeastern states. Tours of the dairy's plants in Athens, TN and Braselton, GA offer an inside look into the history, production and great flavor of Mayfield products. To learn more about Mayfield Dairy Farms, visit http://www.mayfielddairy.com .
Media Contact
Brian Baker
bbaker(at)johngroup(dot)com
423.424.3075
###